January has gone by so quickly thanks to the very entertaining Tata Steel Masters that just finished. We bring a concluding report from the tournament which containted a long awaited win for Aryan Tari. We can also celebrate that a member of Offerspill won the tournament - weirdly enough not Carlsen this time.
Also, Offerspill was led by Johan Salomon in a heroic qualifying attempt in the Quarantine League this past week.
Remember to follow Offerspill on social media for frequent updates on club activities, news and other content.

Facebook | Twitter | Twitch | Instagram
Tata Steel Masters
Dramatic finish, deserved winner
Tata Steel Masters took place on January 16th - 31st as an over-the-board 14-player round robin tournament - in short; all play all once. We covered the first part of the tournament in our previous update.
Dutch hope - and Offerspill member (!) - Jorden van Foreest defeated Swedish number 1 Nils Grandelius in the last round to catch up with Dutch number 1 - and leader - Anish Giri, who managed to hold a draw from a tricky position against David Antón Guijarro.
The all-Dutch playoff turned out to be a real heartbreak for Giri who spoiled a great position in the second game only to lose on time in the Armageddon game - shortly before losing on time Giri had a completely winning position, but failed to keep his cool under pressure. van Foreest, on the other hand, can celebrate being the first Dutch winner of the traditional Wijk aan Zee tournament in 36 years.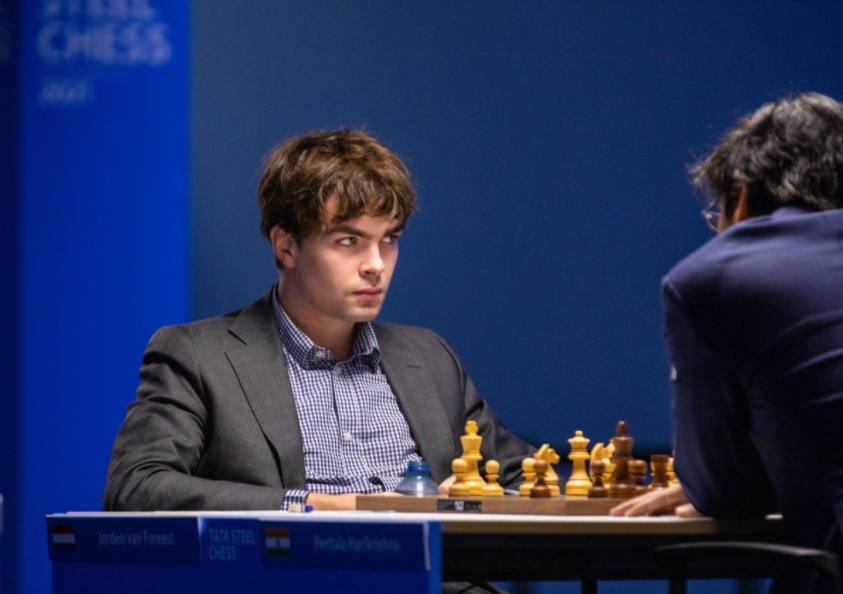 Johan-Sebastian Christiansen must have done an amazing job as second for van Foreest as the Dutchman unleashed dangerous ideas and preparation in almost every game - impressive work! van Foreest's last round victory against Grandelius is an excellent example of modern preparation combined with human creativity - watch and learn, but don't try this at home.
van Foreest - Grandelius
Relief for Aryan, despair for Magnus
Aryan Tari finished in 8th place which is a fine result in very tough company. After a solid, but slightly toothless first half of the tournament Aryan got revenge on behalf of the World Champion against Esipenko in the 11th round. After getting an advantage from the opening Aryan took advantage of risky and reckless play from Esipenko and finished the Russian off with a brilliant attack:

Tari - Esipenko

The World Champion, on the other hand, had difficulties getting across the line in several games. Following a string of draws Magnus at least finished the tournament with a very nice win against Maxime Vachier-Lagrave. The Frenchman must be saving energy for the upcoming Candidates tournament, as his play during Tata Steel Masters was more like the level of yours truly than MVL would have liked.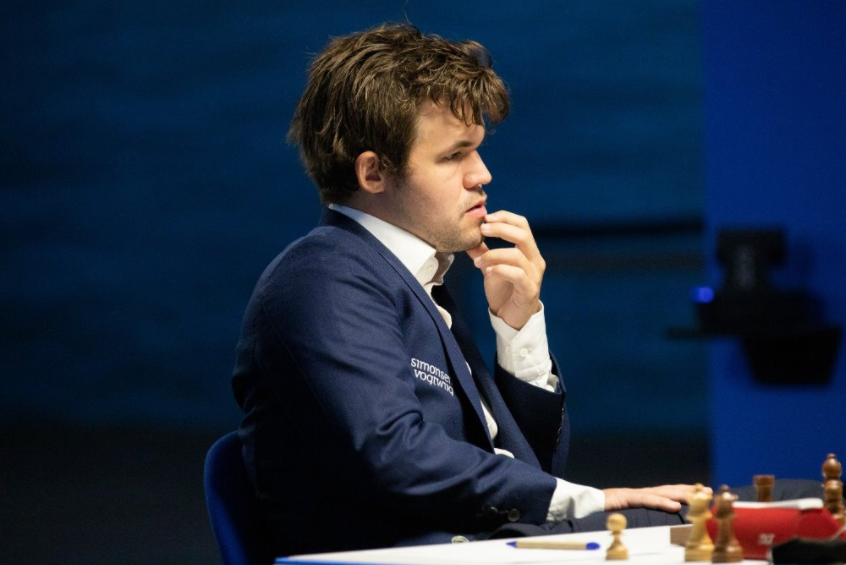 It's always nice to end a tournament in a winning manner, but too many draws is costly at the top. Offerspill's best player lost 15 rating points, but still has a comfortable margin as the top ranked player in the world. Ratings are always live and up to date at 2700chess.

Carlsen - MVL
Playoff drama
After a dramatic last round spectators were looking forward to an all-Dutch playoff between Giri and van Foreest. As previously mentioned Giri suffered a heartbreak by losing on time in the second playoff game. In the position below Giri played the losing 60.Ra7 - can you find an improvement?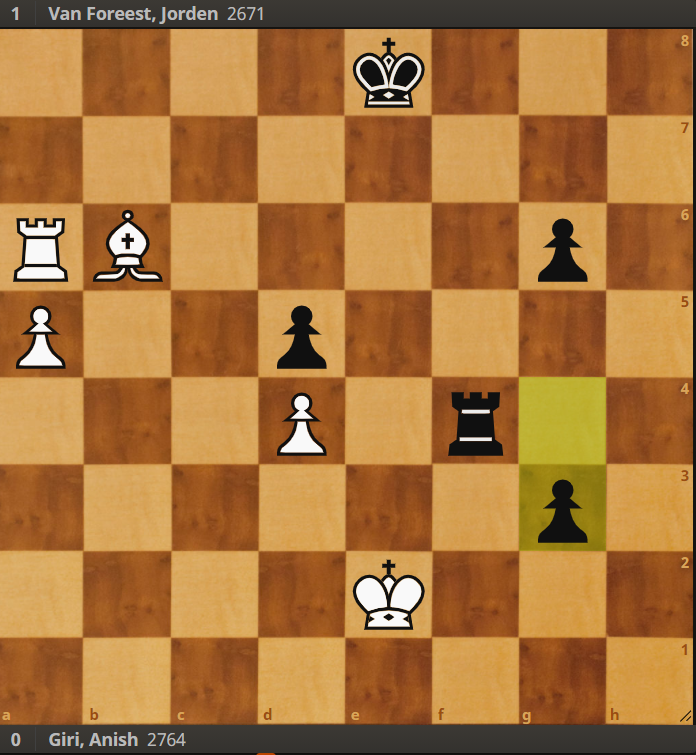 Standings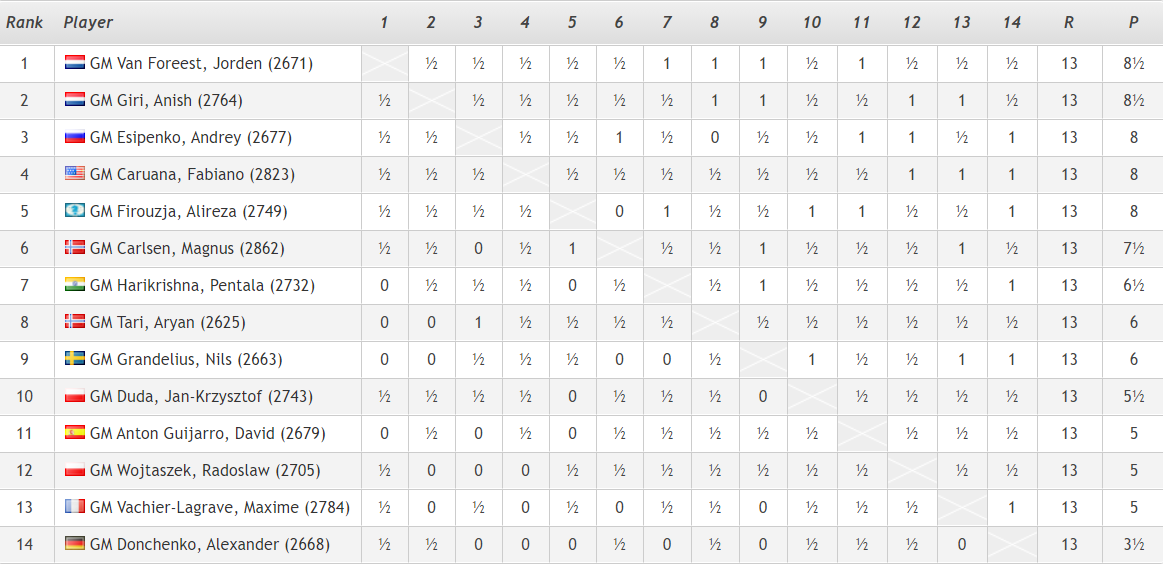 You can read reports from Chess24 and Chessbase while all games can be replayed on Lichess.
Quarantine League
Thanks to the lobbying efforts of Jon Kristian Haarr the line-up of Offerspill was as strong as ever in this edition of the online Bundesliga. Players like Johan Salomon (player2222) and Lara Janzelj (LaraJ) - both part of the new edition of our talent program TalentOffer - were scoring points left and right. Great players, but not the most imaginative of usernames!
Johan Salomon was the star player and top scorer with 14 / 14 wins.
Thanks to a great team effort Offerspill achieved promotion and will compete in the 6th division in the next edition of the Quarantine League. Hope to see you there!
If you want to compete for us in the online Bundesliga you have to be a member of the club and team Offerspill on Lichess. Become a member here and join our team here.

Player profile - Johan Salomon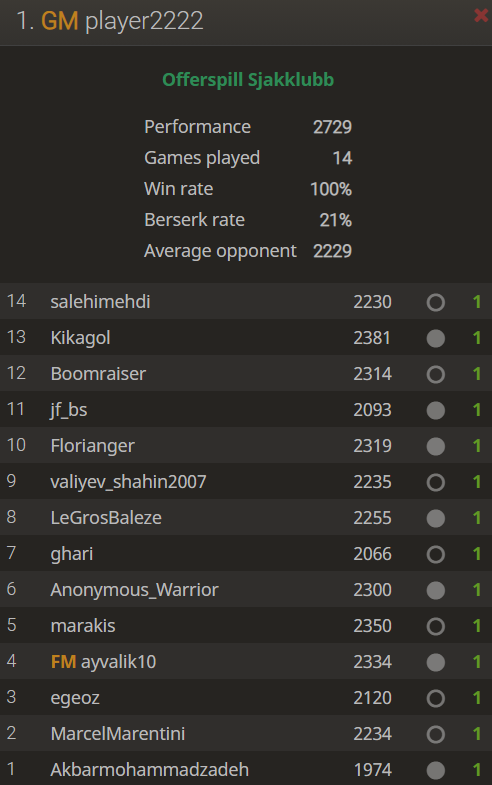 Let's take a look at how Salomon beat a 2300-rated player with the black pieces:
Boomraiser (2314) - Player2222 (2567)


Top scorers (Offerspill)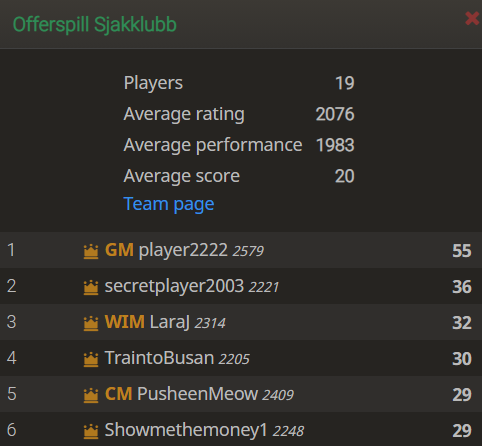 Standings