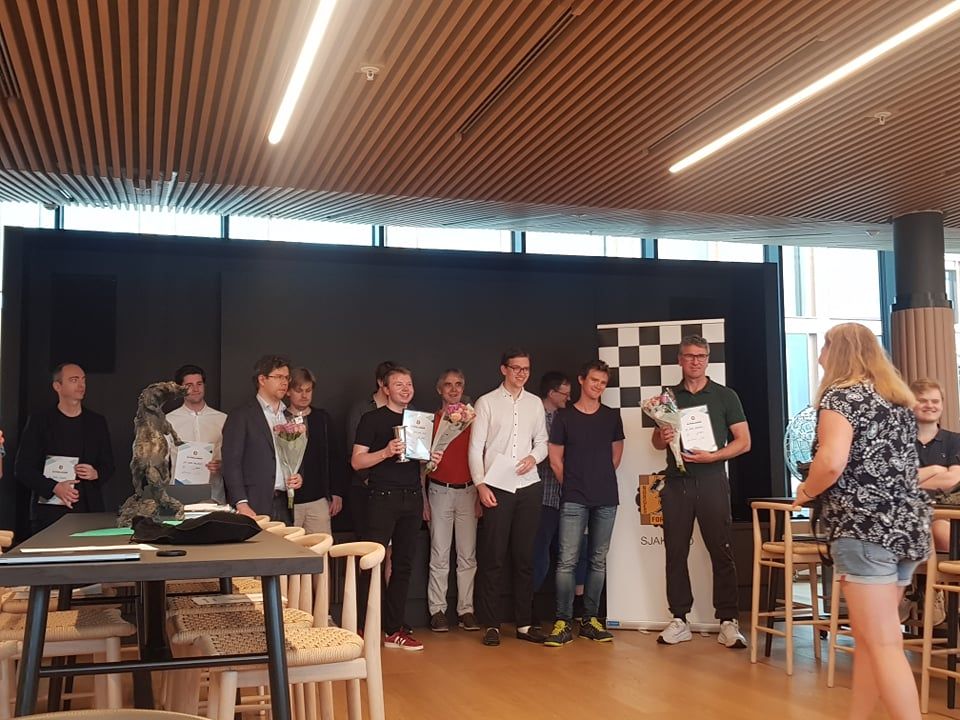 International Master Kristian Stuvik Holm (ELO: 2450) is the new Norwegian champion after a somewhat surprising win in this years championship. Holm represents Vålerenga Chess Club.
Sadly, neither Aryan Tari or Johan-Sebastian Christiansen were able to attend the event because of scheduling conflicts.
The event was held in Oslo as the main festival was cancelled. Originally, the tournament was supposed to be organized in Bergen. Luckily, the Norwegian Chess Federation managed to gather 26 of the best players in the country for a real elite event this summer - with a massive pot of prize money.

[Feature photo: "More or less happy prize winners at the Norwegian Championships", photo by Jon Kristian Haarr]
Prizes in NOK
1st place: 96 000
2nd place: 50 000
3rd place: 26 000
4th place: 14 200
5th place: 9 800
Holm was trailing rating favourite Jon Ludvig Hammer (ELO: 2608), but as Hammer didn't managed to break down the defences of veteran Simen Agdestein (ELO: 2552) in the last round, Holm squeeked by with a fine last round win against Offerspill member Benjamin Haldorsen (ELO: 2477).
Holm - Haldorsen (1-0)


Thus, Holm got the same score as Hammer with 6,5 / 9 points and won as his opponents had performed slightly better. Agdestein claimed bronze with 6 / 9 points, the same score as Offerspill member Frode Urkedal (ELO: 2566) and Frode Elsness (ELO: 2459) of Bærum.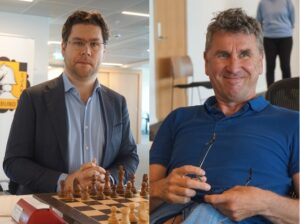 A look at Offerspill
As mentioned, Frode Urkedal did well with a 4th place and a string of nice games to boot. Frode impressed with a patient and technically excellent win in the last round against fellow grandmaster Berge Østenstad (ELO: 2451):
Østenstad - Urkedal (0-1)

Johan Salomon (ELO: 2502) probably felt a bit rusty, but got a good start after turning around his first round game from a much worse position to a surprisingly effective attack. Salomon built on this, but fell short towards the end and crossed the finishing line with 5 / 9 points which earned him an 8th place. A good example of Johan's playing style is the following marathon win also against Østenstad:
Salomon - Østenstad (1-0)
Benjamin Haldorsen could have save a topsy-turvy performance with a win in the last round which would have brought him to a shared 3rd place. Unfortunately, the winner Holm proved too good on the day and Benjamin fell down to a 12th place. However, we know the international master will be back much stronger next time arond - and even with the last round loss Haldorsen played several very nice games, such as this one:
Haldorsen - Vestby-Ellingsen (1-0)

A last round loss also set the performance of Lucas Ranaldi (ELO: 2329) slightly back. However, playing with the black pieces against the very aggressive grandmaster Rune Djurhuus (ELO: 2413) is not an easy task. Ultimately, this was a performance ever so slightly on the minus side for Luacs, but win against the struggling veteran Arnt Esbensen was both smooth and instructive - let's take a look:
Ranaldi - Esbensen (1-0)

You'll find the individual results here, while all games can be replayed on Lichess.