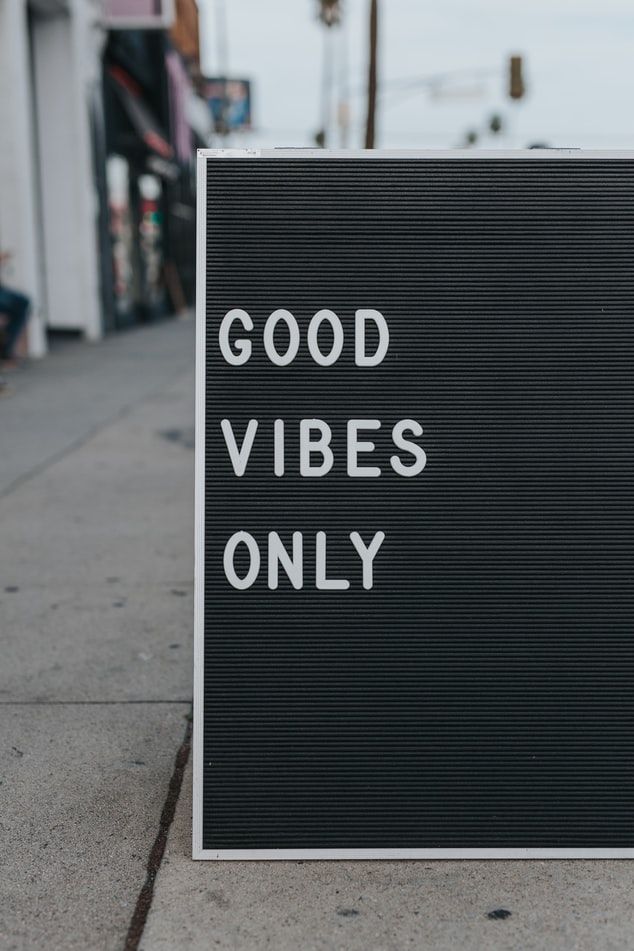 This week our news article contains exciting games and reports from international online and over-the-board tournaments featuring World Champion Magnus Carlsen and other strong players.
Follow Offerspill on social media!
Facebook | Twitter | Instagram | Twitch
Airthings Masters
The next tournament of the Champions Chess Tour kicked off on the 26th of December with participants such as World Champion Magnus Carlsen, winner of Skilling Open Wesley So and speed phenomenon Hikaru Nakamura to name a few.
We wrote about the Skilling Open in a previous update here.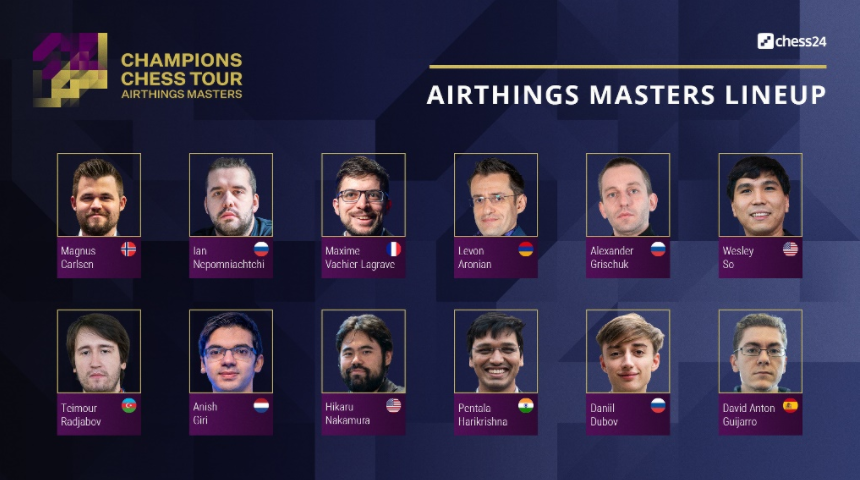 Magnus Carlsen will be out to get revenge for both the Skilling Open and the recent Speed Chess Championship which were won by Wesley So and Hikaru Nakamura, respectively. The Airthings Masters is a 12-player tournament that runs until the 3rd of January with a massive prize fund of $200,000! The winner of the tournament will win a whopping $60,000 and, perhaps more importantly, will be granted a place in the grand final of the tour which is scheduled for September 2021.
The tournament is divided into two stages; a preliminary stage and a knockout stage, as has become the standard in online tournaments recently. The time control is 15 + 10 and the top 8 players qualify for the knockout stage. Additionally, in this tournament there will also be a match to decide 3rd place.
Day 1
Magnus got off to a relatively slow start with four draws on the first day of Airthings Masters. A winless day is very rare for Magnus, but he was very close already in the first game against Levon Aronian. In the following position Aronian has gifted Magnus a belated Christmas present, one which the Norwegian icon refused.
Can you find the winning move for White?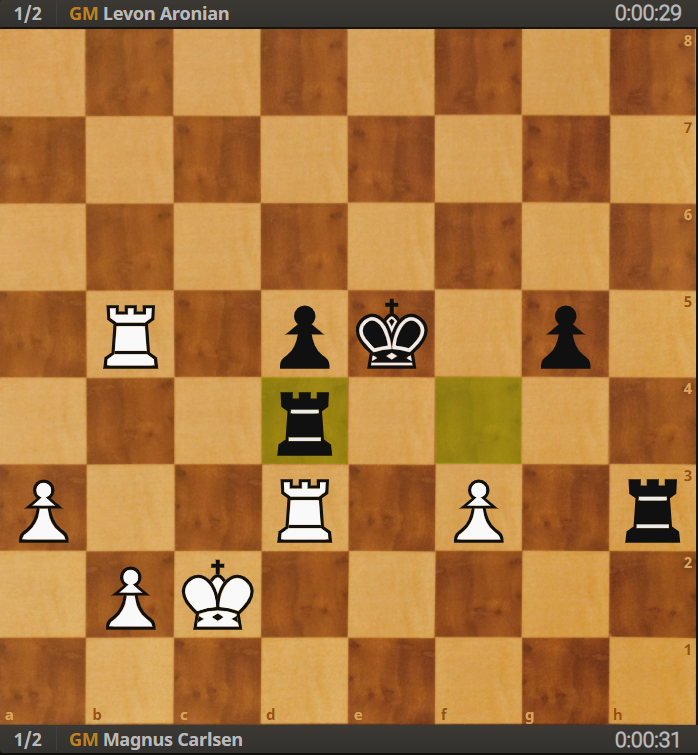 In the 2nd round Magnus faced rival Wesley So and chose the sharp King's Indian Defence - only to be met with White's most solid reply, namely the Exchange Variation. As in so many other games in this variation Black never really got going and had to accept a draw in a rather uneventful game.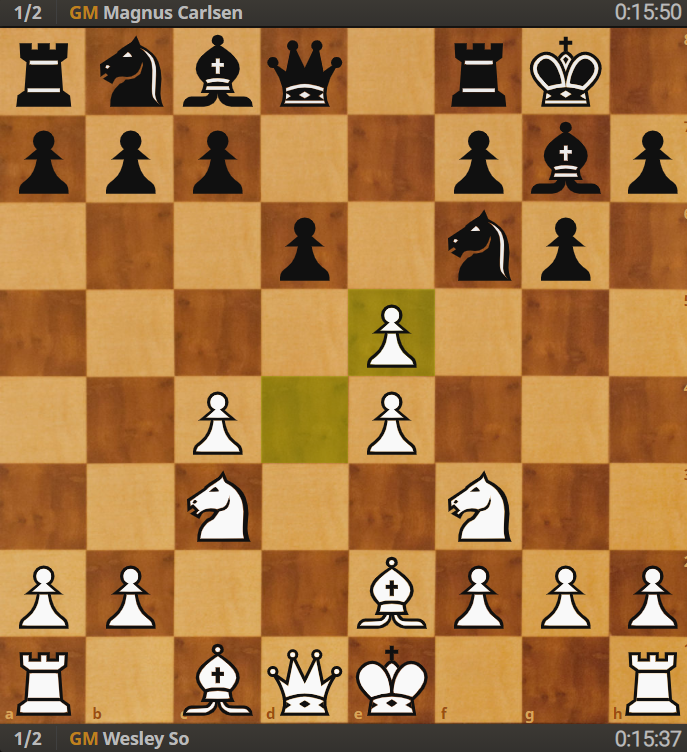 The final game of the day for the World Champion was against Teimour Radjabov with the white pieces, but after rescilient defence from the Azeri GM the game ended in a draw yet again.
Standings - Day 1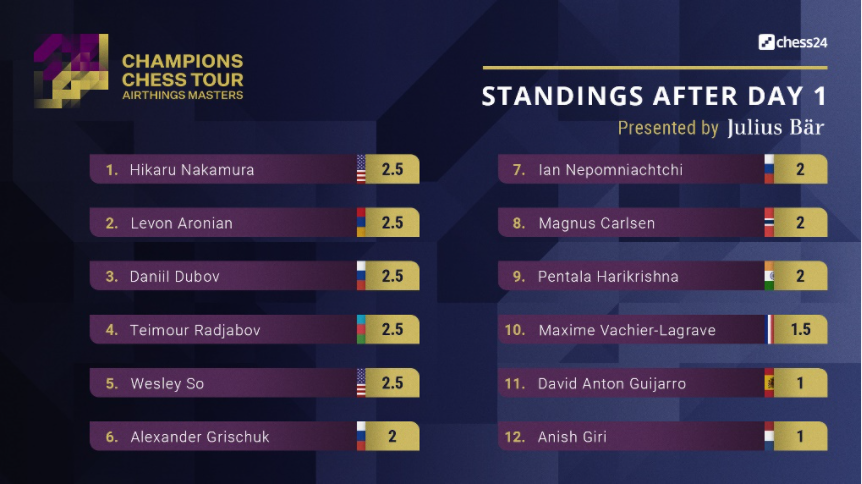 Day 2
Finally a win for the World Champion! Even though Daniil Dubov has enjoyed a positive score against Magnus Carlsen until now in 2020 he had to succumb to the pressure in this classical Carlsen win. Watch and learn from this typical Magnus squeeze:
However, Magnus struggled a bit to follow up with more wins and had to settle for three consecutive draws to end Day 2 of Airthings Masters, which was a result he was not particularly happy with. The preliminaries are very close with six players in the lead which should give an exciting last day for qualifiying play - fingers crossed for Magnus, even though he will probably not need it.
"I am doing okay, but I am not comfortable in any way" - Magnus to Norwegian state broadcaster NRK after Day 2.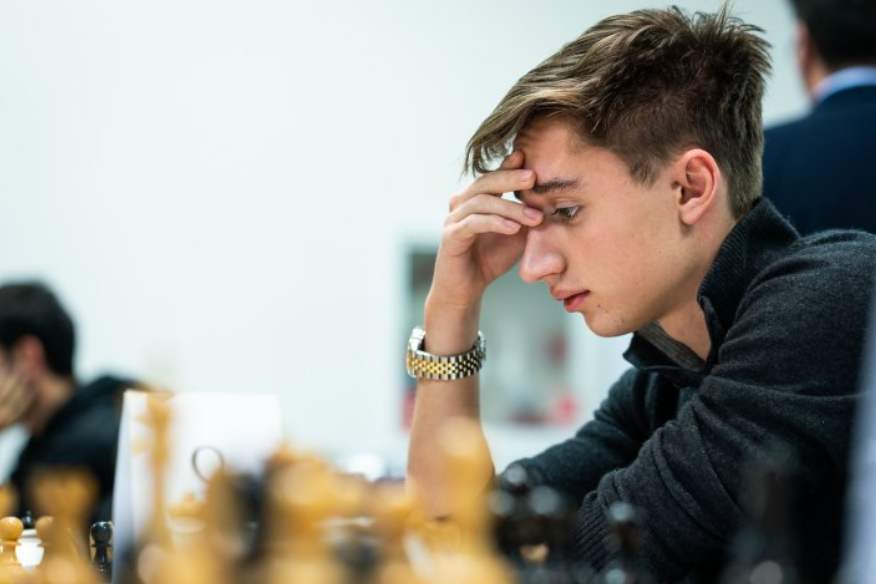 Even though Dubov lost to Carlsen in the 5th round he gave us a candidate for "game of the tournament" in the 4th round. His romantic style of play has made the Russian something of a crowd favourite and it is not difficult to understand why when replaying the following enterprising win against Spanish champion David Antón: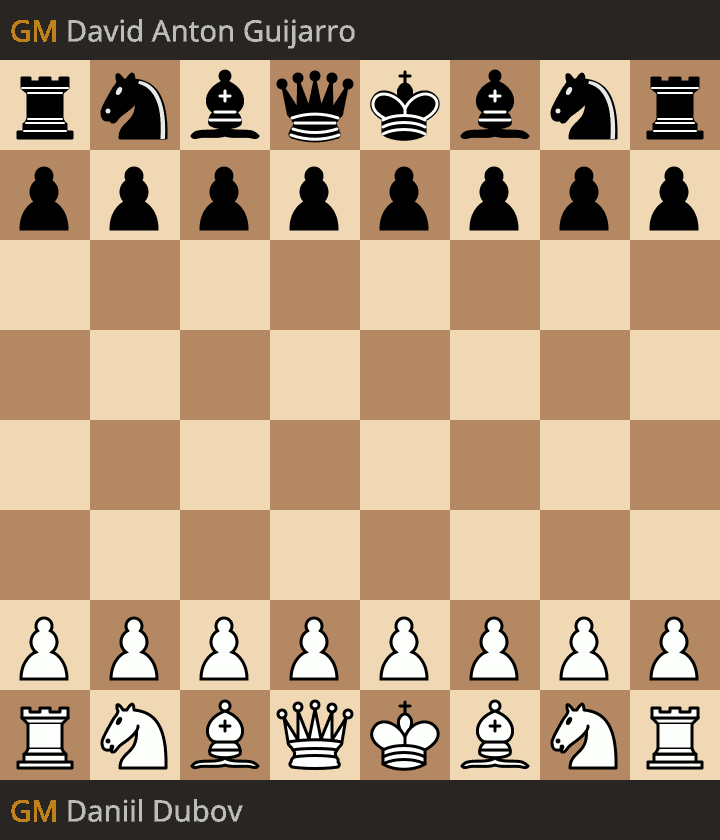 Standings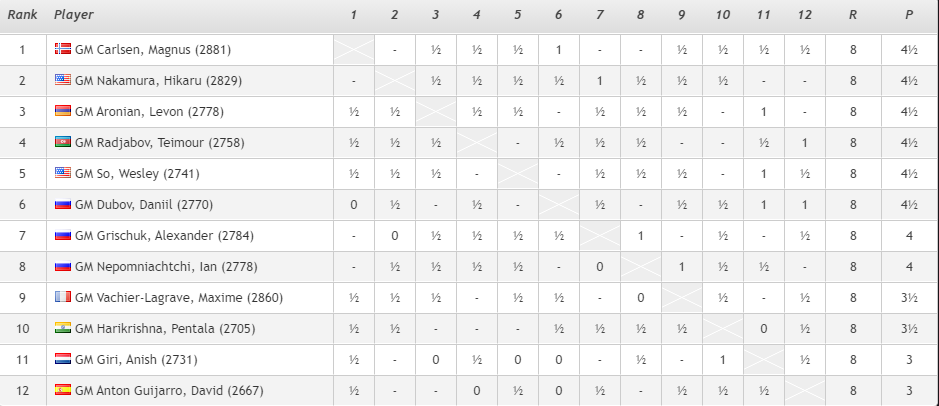 Read more about the Airthings Masters at Chess24, Chessbase or at the tour website.
Chinese Championship
The Chinese Championship is currently underway in Xinghua which is a city located in the Jiangsu province. It is not unusual that events are split into an Open section and a Woman's section, as the Russian Superfinal, but it is nice to see Women's World Champion Ju Wenjun playing in the Open section - why wouldn't she?

The event started on the 19th of December and will be concluded just before New Year's Eve on the 30th of December. Even though there are some high-profile absentees in the list of participants strong players such as Chinese no. 3 Wei Yi and 2700+ GM Yu Yangyi give the event a certain aura of class - along with a bunch of other title holders, of course.
Open - standings after 8/11 rounds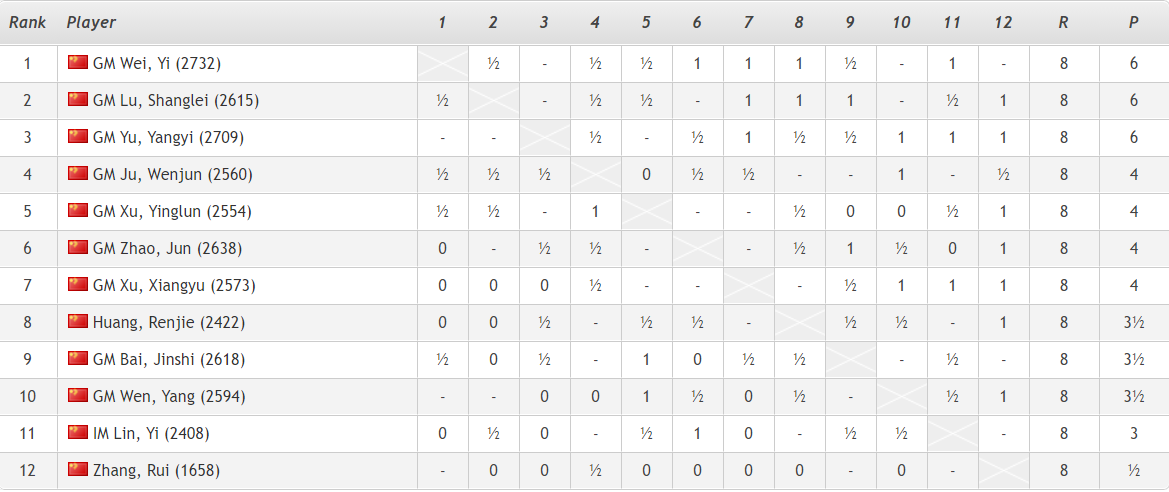 You might wonder what the story is behind bottom seed Rui Zhang who, with a relatively moderate rating of 1658 is allowed to compete with the country's top players. Turns out the organizers are permitted a "wild card" player of their choosing and, in this case, that player is Rui Zhang as he is a local player. Evidently, the organizers are aware of his potential as he managed a strong draw against Ju Wenjun in the 7th round:

Game of the tournament?
In the 5th round GM Shanglei Lu delivered a clear candidate for game of the tournament, or at least "position of the tournament" with this very picturesque final position in his attacking game against fellow GM Jinshi Bai. The latter is well-known for being the victim of GM Ding Liren in a fantastic attacking game that was played some years ago (replay it here) - let's hope the Chinese GM continues to deliver us fantastic attacking games, even though he seems to find himself on the wrong side of things from time to time.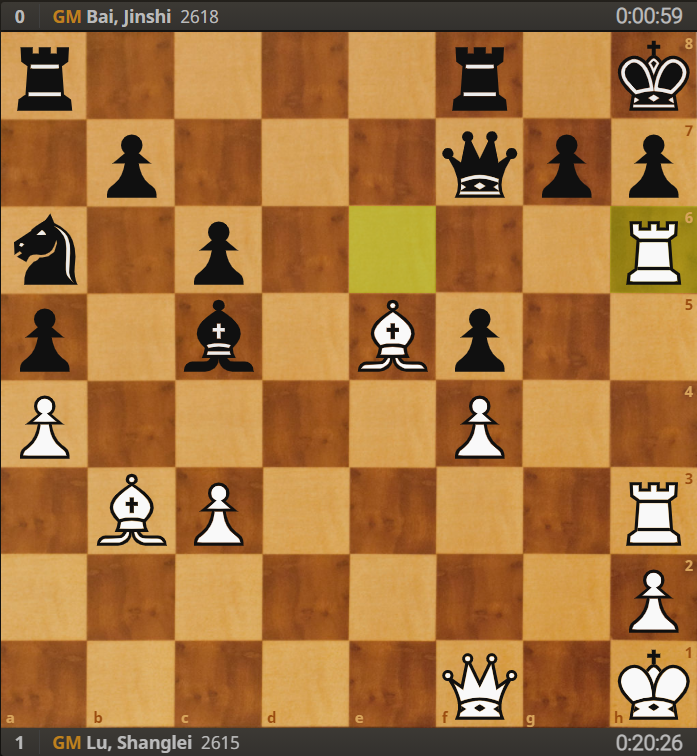 Replay all games from the Chinese Championship on Lichess or Chess24.
The Women's section is just as tight as the Open, but with one sole leader in WGM Shiqun Ni. An instructive attacking game against WGM Xiaboing Gu gave her a half point lead on top seed GM Zhongyi Tan after 8 rounds.
Watch and learn: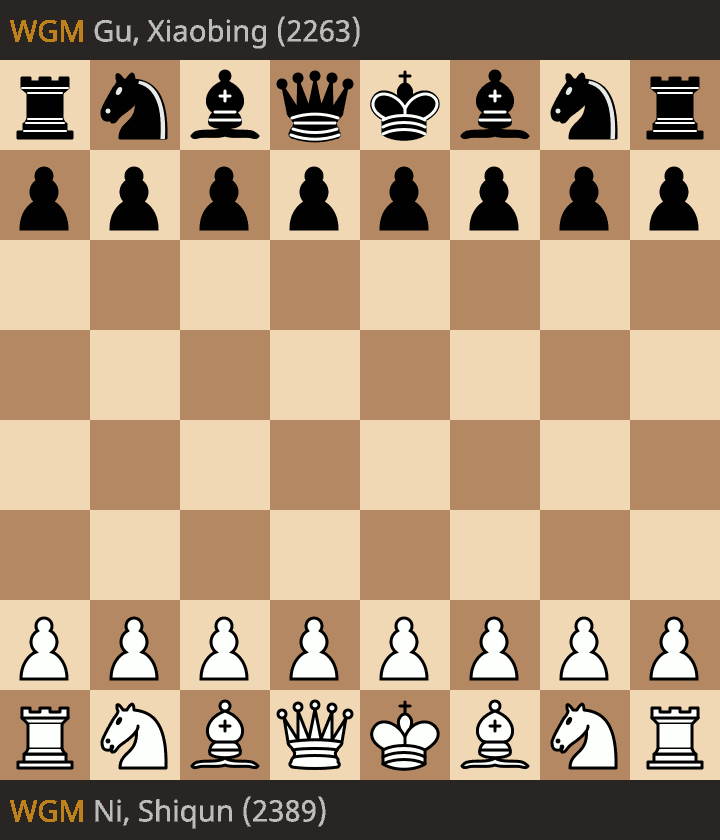 Puzzle from Ni - Li, round 6.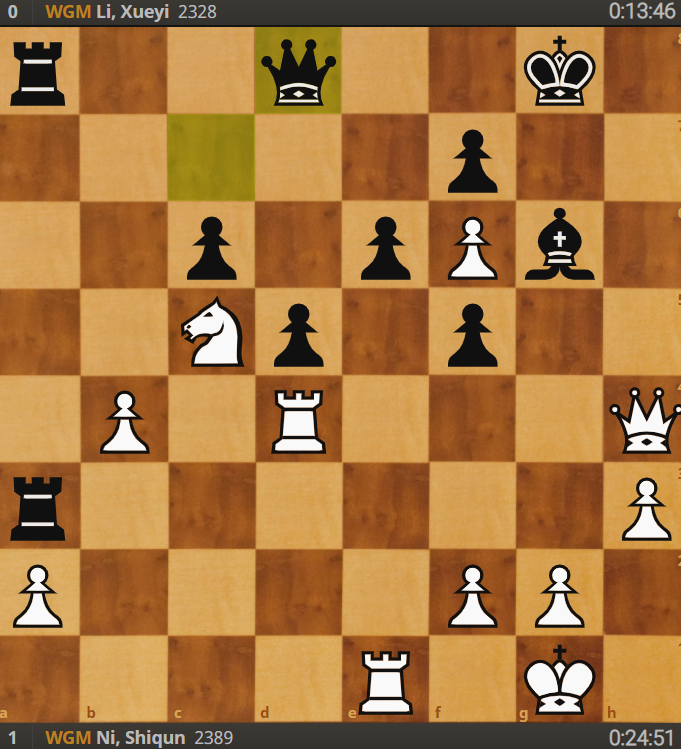 Women's - Standings after 8/11 rounds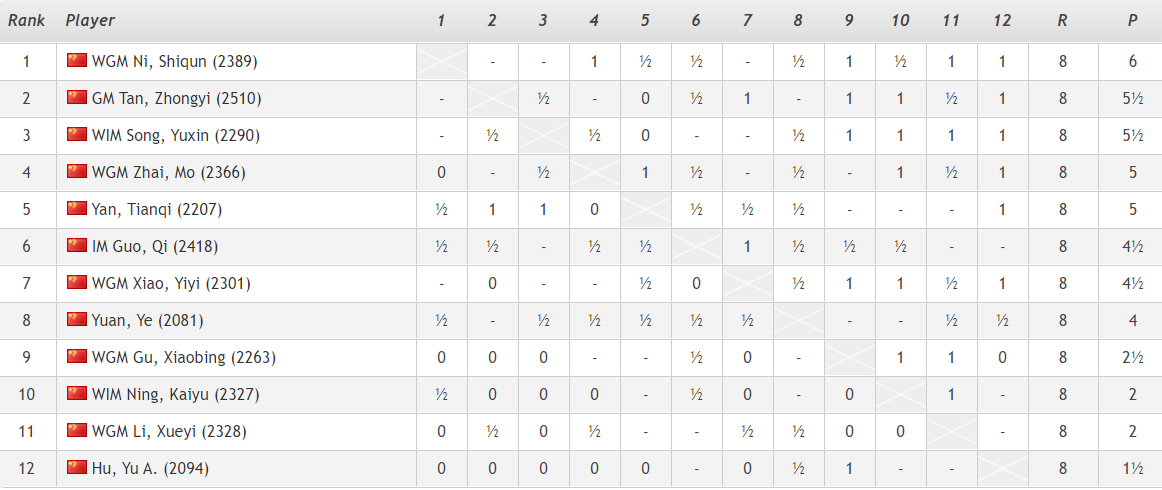 Make sure to check our website and social media frequently for more updates and news. Next week we will provide updates from the Airthings Masters amongst other things.