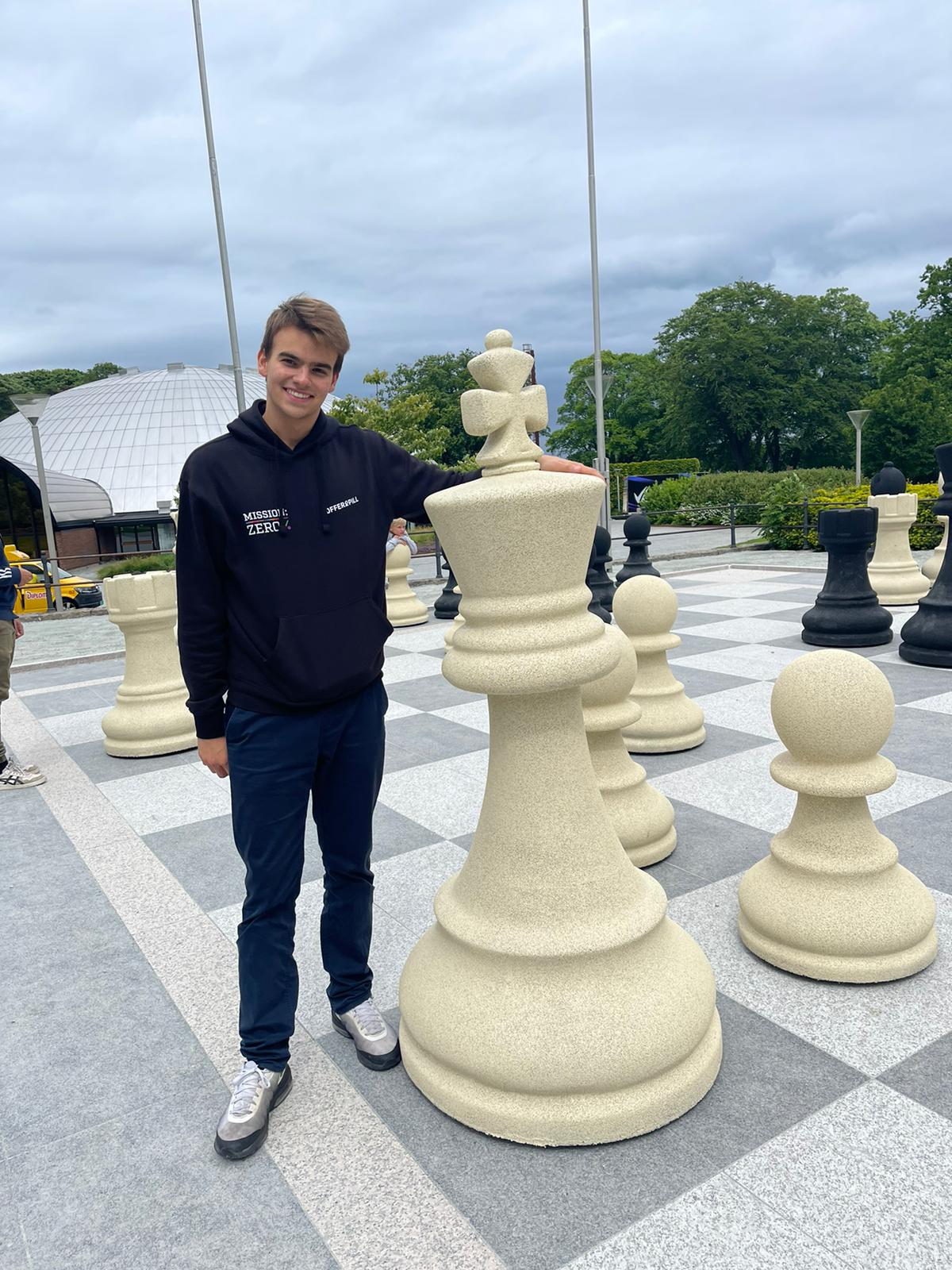 This report is written by Offerspill member Laurin Perkampus

At the end of May I packed my stuff and went on a nearly three week trip
to play chess in Norway again.

Before playing myself, I had a few days in Oslo. So I visited the famous
,,The Good Knight" pub and virtually looked over the shoulder of Jon
Kristian Haar while he was playing in The Offerspill Klubbturnering! As
you can see - in Oslo there is chess action everyday. I love it!

The first tournament I took part in was the National Club Championship
which was held in Drammen (30 min away from Oslo) from the 26th to the
29th of May.

Offerspill played with four teams in total: The first one was called
Offerspill ,,Elite" and was packed with some of the strongest players of
our club (Tari, Christiansen, Urkedal and Thybo).

The second team - the one that I played in - was called Offerspill
,,Washed Up". I have to admit I had to google this: "If you are washed
up, you are no longer successful and you have no chance of success in
the future"
(https://dictionary.cambridge.org/dictionary/english/washed-up). Ouch!
With that, my mission for the event was clear: To prove that I am not
washed-up!

This is our team:


The third team was called "Offerspill Hobby" and the fourth team was the
"Kvinner Team" (the women's team).

But let us see how the Washed Up team did:

The first round went as planned as we won 4-0 vs Kristiansund Hobby, a
team that was much lower rated on all boards!

Our team captain Jon Kristian unfortunately could not play in round 2
which meant that we had to bring in some substitutes: Kristoffer Madland
was playing on Board 1 and on Board 4 we brought in the highly motivated
streamer Cathrine Bruvold (https://www.twitch.tv/cbruvold).

Kristoffer deserves praise for his nice game which was important for the
team! But so does Cathrine who managed to get a completely winning
position with Black against an opponent who was rated more than 300 Elo
above her modest ELO of 1252. Unfortunately as time got short, she made
a fatal mistake and lost the game on the spot. Nevertheless we trust in
her abilities and we all know that losses like that are part of the
process and only make you stronger! While David lost his game, I was
playing a highly sharp game against an opponent who was in the mood for
sacrifices. While checking the game, I now realized that I handled the
complications quite well. During the game though, it felt like
rollercoaster especially considering that I was low on time!

The next morning we played against Bergen Sjakklubb 2. For Cathrine,
things repeated themselves unfortunately and she lost a good position
again. Back after a fresh break, JK (Jon Kristian) scored yet another
convincing victory and also David managed to win a nice game. I have to
mention though that David declined a draw with under 5 minutes on the
clock in a position that was unclear (at least to me). This made me
quite a bit nervous, but he showed confidence and strength in that game!
Before David finished, I managed to win my game with White and was on a
3/3 streak, although beating my young opponent was not an easy task from
a completely symmetrical position. It was good for the team that we won
3-1, as in the next round we faced a strong team, SOSS.

Finally we left the casual boards and it was time to show a good
performance on the DGT live boards. Between the rounds we did not have a
lot of time and after preparing for the wrong color for half an hour we
actually ended up preparing for the wrong opponents as well, as SOSS
surprisingly brought in their strongest player, IM Geir Sune Tallaksen
Østmoe. This means that our team couldn't have been considered  to be
washed-up by them at least! Østmoe drew Magnus in a famous league game
not so long ago and only needed 7 rating points to get the GM title,
which was his goal in the klubblag.

But our team captain JK rose to the task and showed good understanding
in a complicated QGA game, which could have gone either way but ended in
a draw. This was a big upset for Østmoe of course but a huge achievement
for JK! Congratulations!

As Jon Kristian and me had already spent some time together before the
tournament playing endless blitz games, we decided on the QGA as a
weapon for the klubblag! Our decision payed off as I also managed to
hold my 2323 ELO rated opponent with black to a draw after playing the
QGA. Anders Hagen managed to fight on in a much worse position but also
his game ended in a draw! Unfortunately David lost his game against a
much higher rated opponent so we lost 1.5-2.5, but we can for sure be
happy about this result, especially JK, who drew the ,,Magnus-drawer".

Nevertheless this loss meant we would have to play on a non-live board
in round 5 again. And in that morning game, we showed our worst
performance of the tournament against Aalesunds with everybody losing
their games except for me. Personally, I was on a good score of 4.5/5
which meant that with a win in the last round I would be in a good
position to win a board price.

The tournament venue was divided into two playing halls in the hotel and
as we lost the 5th round, we had to play in the room with worse
conditions. Nevertheless, we had to focus one more time and to end the
tournament on a high note. For me personally, the target for the last
round game was to finish on 5,5/6 and to get a board price. I faced an
unrated player with White so I could not gain any rating but had good
chances to win. I managed to outplay my opponent in the middlegame and
won a pawn and even though it felt like it took me an eternity to win, I
finally managed to do so. And with the score of 5,5,/6, I secured myself
the price for the third board.

Anders and David also won in convincing fashion but JK missed several
wins and had to settle for a draw in the end so the final score against
SK Sorte Bønder was 3,05-0,5.

Anyway, besides winning the trophy I achieved my goal as after the
tournament JK personally told me that he does not consider me to be
washed-up. This means, that the tournament was a success for me!
Overall, our team finished 19th out of 57 teams. I believe that we
showed some potential in a few matches but in the end our results also
partly displayed our name. I am sure we will perform better next year
and we are going to come up with a new opening weapon.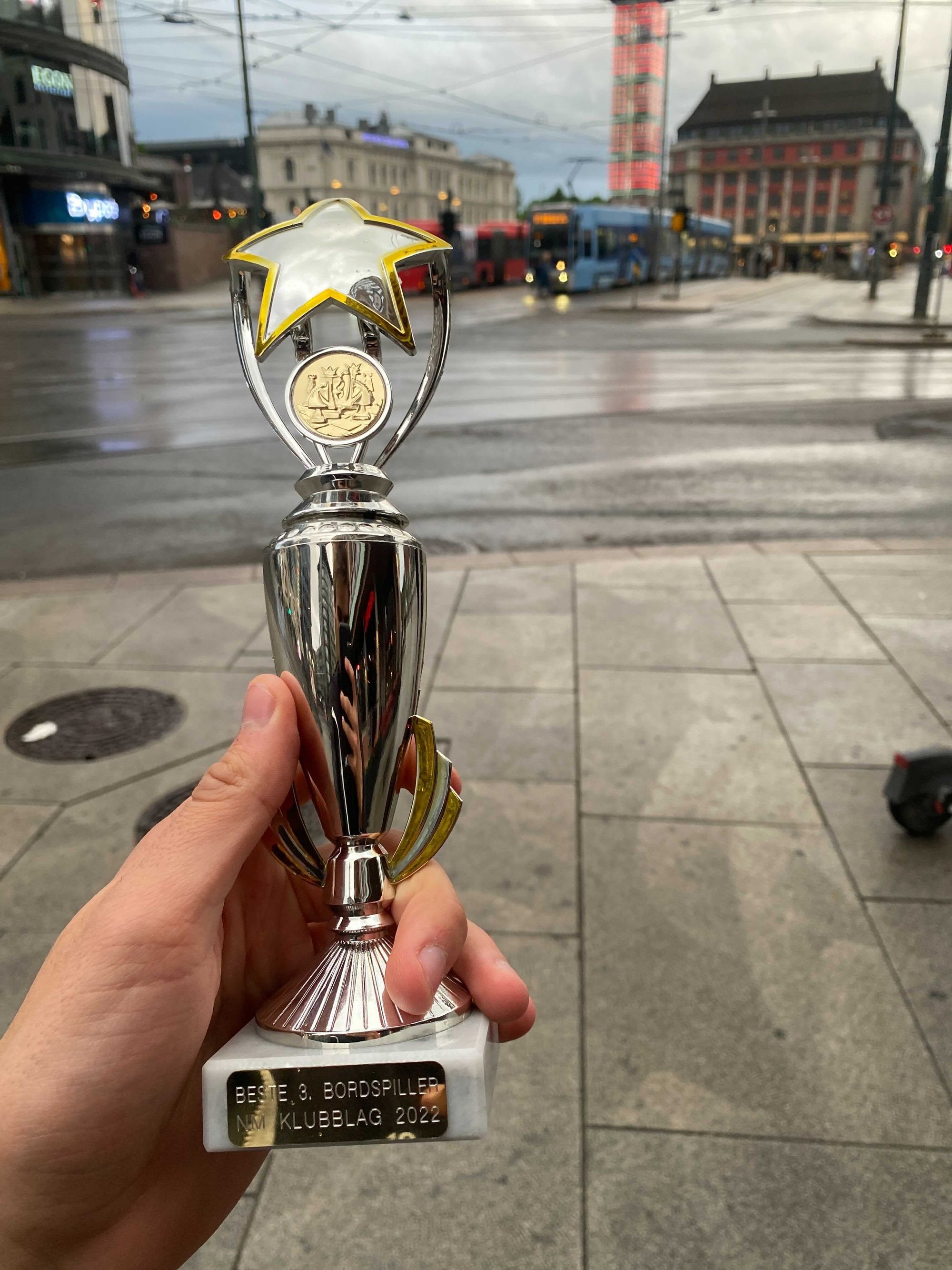 For the other Offerspill teams, the tournament went quite disappointing
as well. The Offerspill Elite team suffered a painful loss against OSS2
and after that the chances for first place were over. After the last
round, they finished 5th.

The Offerspill Hobby team also missed some chances and had a normal
event finishing 29th. The Kvinner team however had a rough event
finishing in last place.

Let's hope the next edition of the Klubblag will go better for all of
our teams.

After this tournament, I enjoyed a couple of days in Oslo visiting NTG,
the Norges Toppidrettsgymnas in Bærum
(https://ntg.no/idrett/sjakk-ntg-baerum/) which obviously is a nice
place to go to school and to study chess. In these days besides playing
soccer I was also working on some opening weapons for Norway Chess Open,
which was held from the 3rd to the 10th of June in Stavanger. Of course
I was hoping to continue my unbeaten streak and to use the momentum of
the good result in the Klubblag.

I recommend you reading Jakob Aavik's report of the journey to Stavanger
(https://www.offerspill.com/reisebrev-norway-chess-open-2022/). Jakob
and me were spending a lot of time together there so I will keep my
Stavanger report short.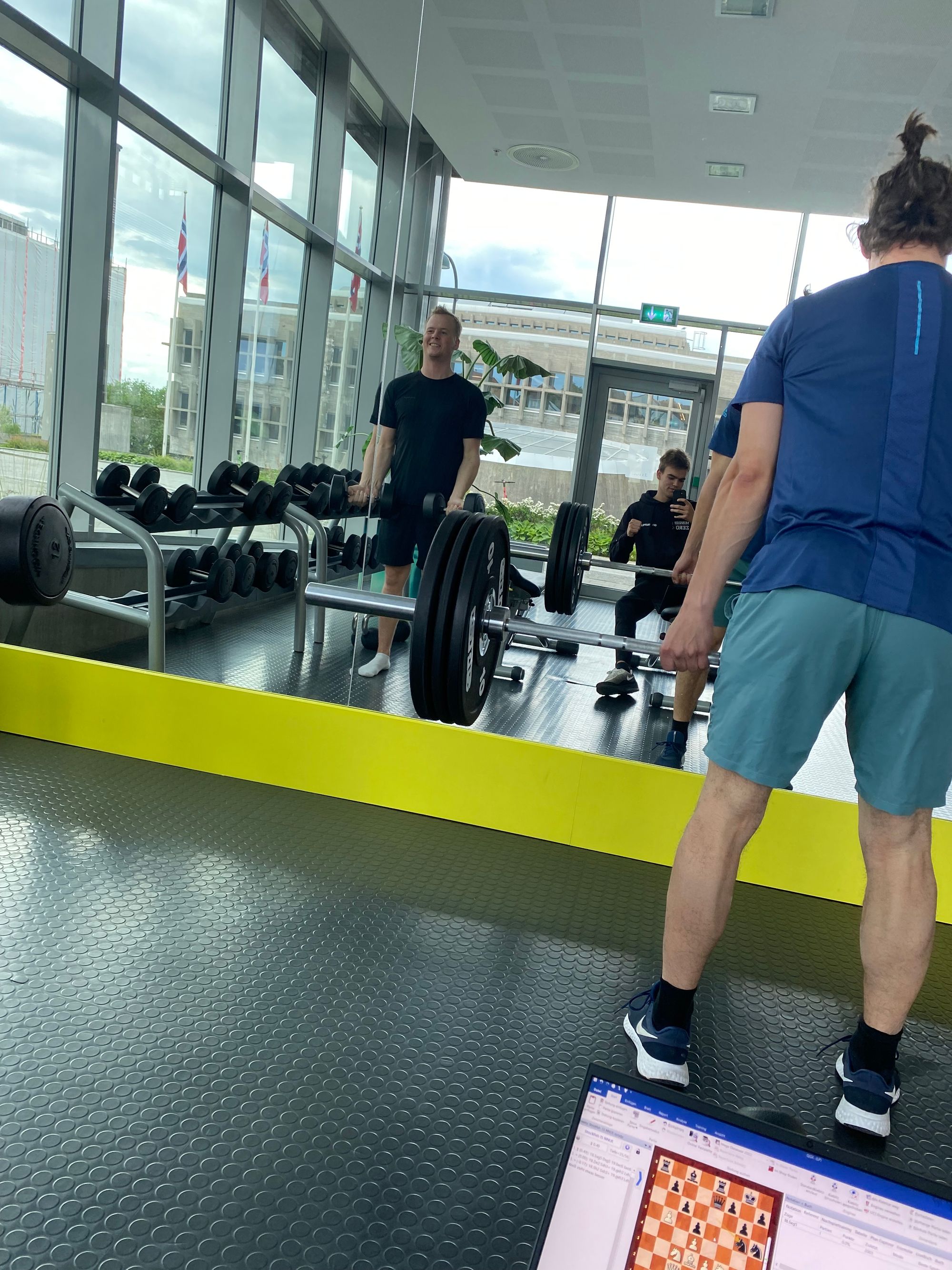 Compared to his journey to Stavanger I had a smooth day without missing
any flights :) and was happy to arrive in a city that I had not yet
visited, which is always exciting!

All in all, I had a great time in Stavanger but the tournament itself
was full of ups and downs for me. The first two rounds I played against
two Grandmasters (Fishbein and Valsecchi) and unfortunately I got a
double black. Still I had quite some chances to make a draw in these
games but in the end I lost both games to my biggest enemy, my poor time
usage. I really have to work on that!

The next two games were played on one day and if you read Jakob's report
you can tell that even though playing Dart and Bowling is fun, you maybe
should not do that before a double round. I only made a draw in both
games against lower rated opponents, but considering my position in game
4 I can be happy that he took my draw offer in a +4 position for him.

Nevertheless, Round 5 and 6 went very well for me as I managed to get 2
wins with White against 2000+ rated opponents. At that point I felt that
I was back in the flow. My round 7 game was interesting as well but our
QGA weapon was challenged by a well prepared Nikolai Kistrup (over 2300
ELO) and right when it seemed that I had some chances to hold the game,
time trouble struck me again and I lost. That was a very painful loss
but creating good drawing chances in a difficult position made me hope
that my play is still alright.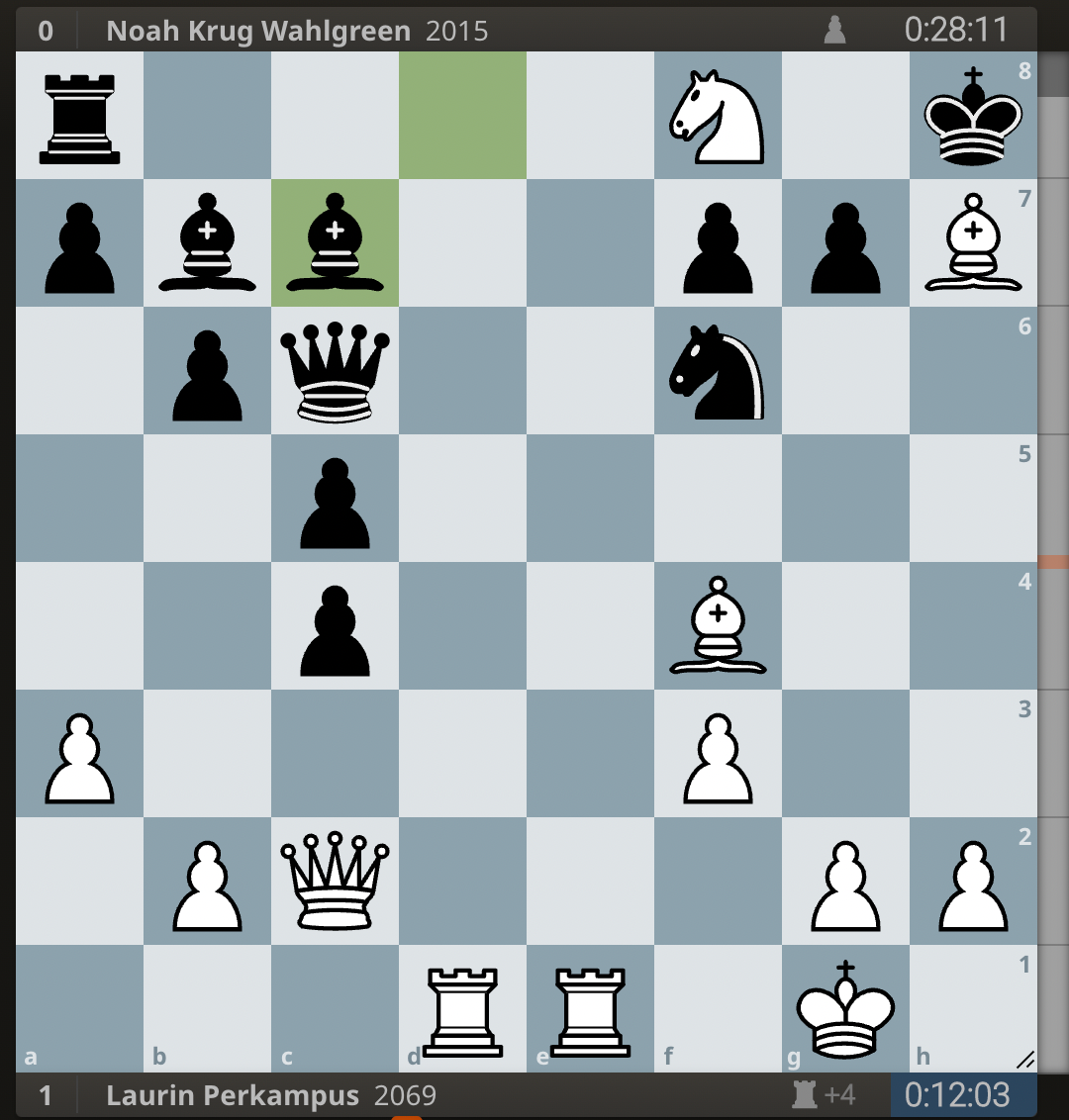 I wanted to strike back in round 8 but a few hours before the game my
opponent told JK that due to some flight schedule changes he could not
play that day. This was a pity but at least I could get some rest for
the morning round 9.

In round 9 I had the same position as in game 7 with Black, but now I
was White! Unfortunately I spent way too much time (have you read this
word earlier in this text?) at some point and this cost me the game in a
complex position where the computer gives close to decisive advantage
for me. So I ended on 3/8 and did not lose any rating but I cannot be
happy with the result as there was big room for more points!

Despite having lost my last game, I was still in the mood to visit the
World's largest chessboard and to go for the best pizza place of
Stavanger with fellow Offerspill member and streamer Ellen Nilssen
(https://www.twitch.tv/ellennilssen).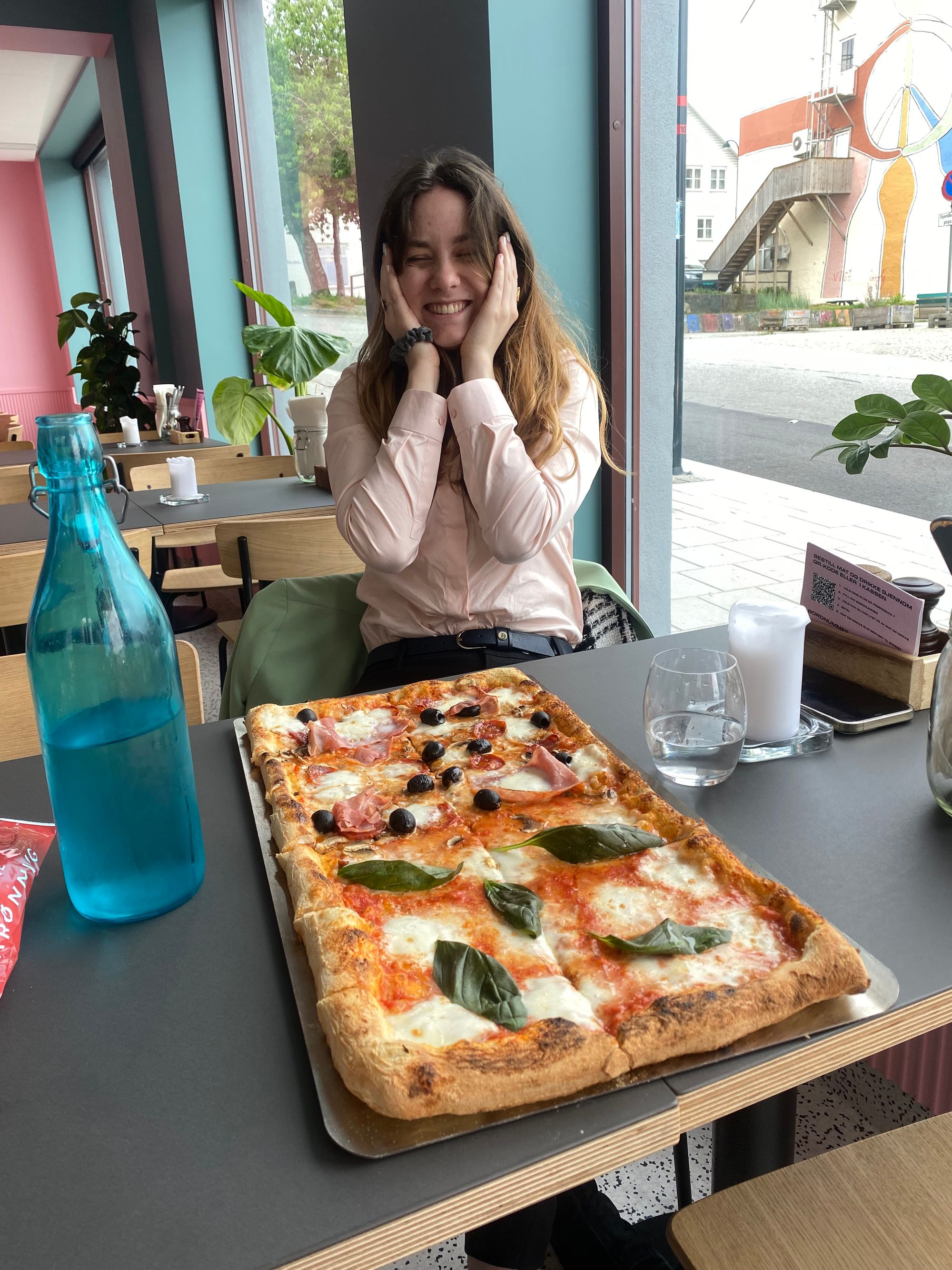 To sum up, it can be said that I really enjoyed my time in Stavanger
thanks to great company (shoutout back to JK and Jakob!) but that
chess-wise it could have gone better. To my fellow members of Offerspill:
I can definitely recommend to go to Stavanger in the coming year -
watching the main event and playing in the open event results in having
a nice time! Also, don't miss out on Mano Pizza!

I want to thank JK and all the other people I met for making these weeks
still a happy time for me and I hope that I am going to be back soon!

Laurin