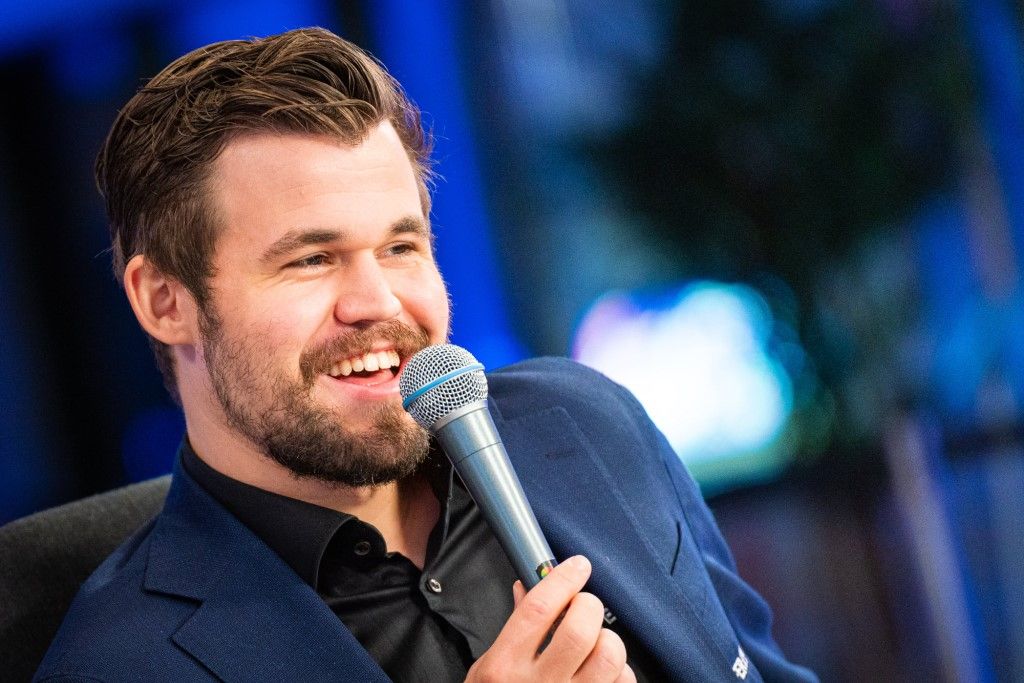 Jesper Thybo has been playing tournaments in Serbia recently - and even won one of them. The online Bundesliga was not a huge success last week, but luckily Offerspill just announced the new season of the Online League! Also, World Champion Magnus Carlsen did a fascinating interview with Chess24 recently.
Remember to follow Offerspill on social media for frequent updates on club activities, news and other content.

Facebook | Twitter | Twitch | Instagram

Please note that the Puzzlemania continues this Wednesday, the 3rd of March.
Last week, Ellen Fredericia Nilssen (Fredericia), Lucas Ranaldi (Lucasran) and Jon Kristian Haarr (PusheenMeow) competed in the second edition of our Puzzlemania. Fredericia won the night with 58 puzzles solved.
If you want to join our stream, or just let us know how you did when playing Puzzle Storm on Lichess, let us know via e-mail or social media.
You can watch and interact with us on Twitch every Wednesday from 18:00 CET.
Offerspill Online League
Today, on the 1st of March, it is time for a new season of the acclaimed Online League. Members can play weekly tournaments to earn achievements and win prizes.
However, there are some changes this year.
First, this season last until the end of March. Then the plan is to analyze and continuously improve the concept while launching new seasons monthly. Second, we have updated the league with new achievements - enjoy!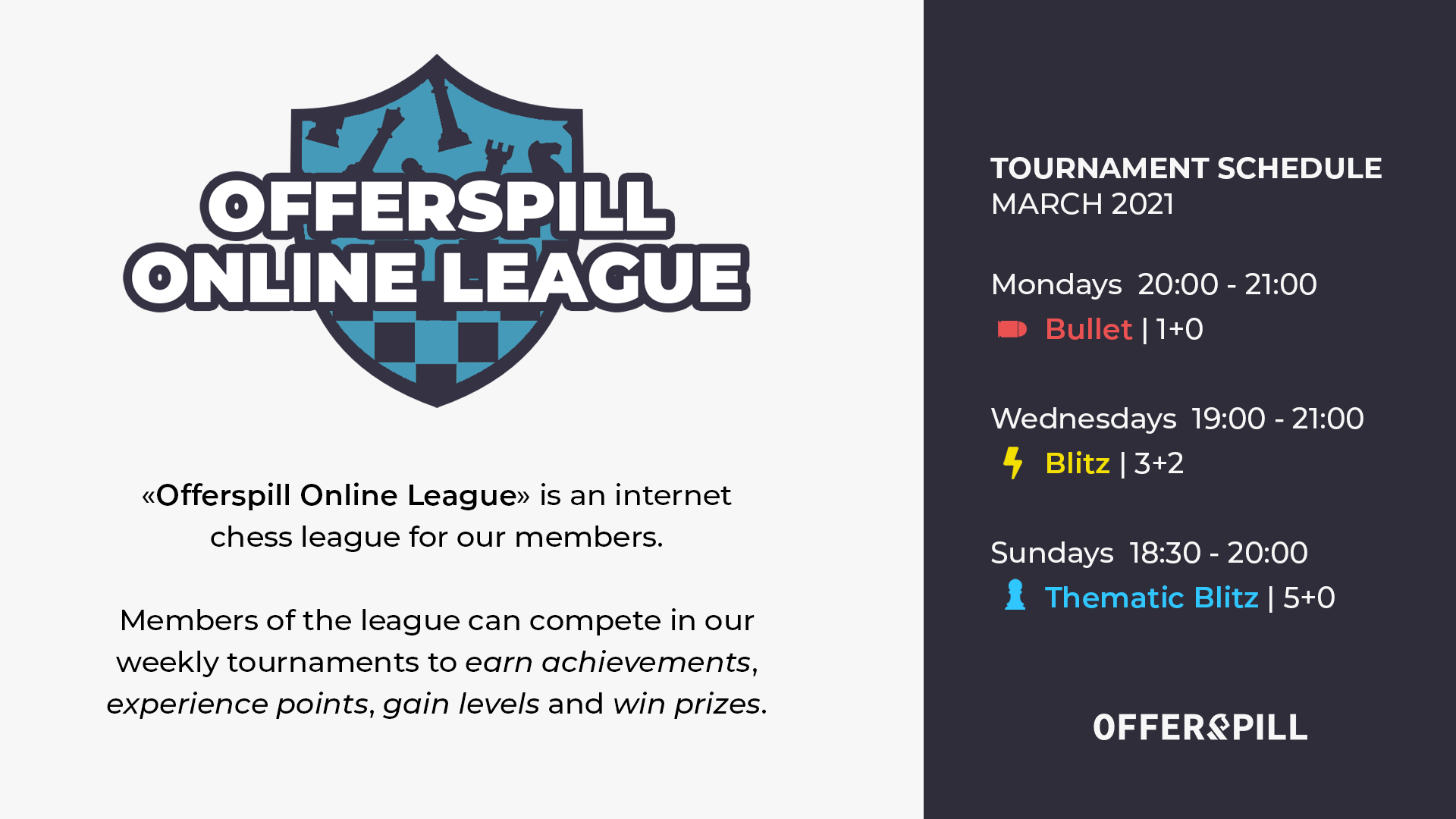 If you want to participate in the Online League, win prizes and earn achievements then you have to be a member of Offerspill Chess Club.
Become a member here [Norwegian] or here [English].
Carlsen: - I just want to win one more tournament
Magnus shared his thoughts on his recent drought in terms of tournament victories as well as his ideas for improving the World Championship format - his preference would be a rapid championship as this would be a more precise measure of playing strenght, according to Magnus.
If you want to see who the best player is, then you should play a lot of games - it's as easy as that!
It's intriguing to delve into the thoughts of a World Champion - check out the interview here.
Tour de Belgrade
It seems that our TalentOffer-candidates feel right at home in Serbia. Recently, Benjamin Haldorsen played a couple of tournaments there - with great results.
Last week we receieved a report from grandmaster Jesper Thybo from Belgrade.
Jesper played two strong tournaments and gained a couple of rating points on the way. While the first event ended in victory for our Danish grandmaster, the second tournament was somewhat of a disappointment.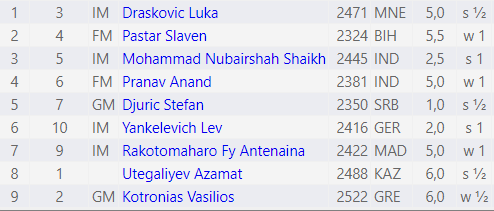 As usual, Jesper managed to play a number of fine games. Below is his own favourite win against a local Fide master with some comments from yours truly.
Thybo - Pastar
Quarantine League
As usual, Offerspill competed in the Online Bundesliga this past week against a wide range of clubs from all over Europe. Last night, on Sunday the 28th of February, the club got relegated to the 6th division following a rough night at the office.
Standings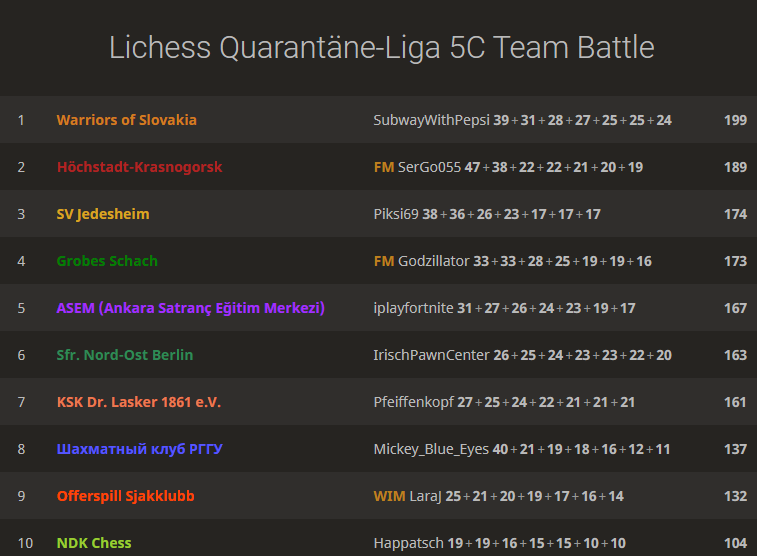 TalentOffer candidate Lara Janželj ended up as team top scorer, but could not save the club from relegation. However, there were plenty of highlights and great games to pick and choose from.
Online League aficionado Gvein was dealing out hammerblows left and right, and recorded a performance of almost 2500! It looks like Gvein, as usual, is in great form for the Offerspill Online League which starts a new season today, on the 1st of March.
It is well known that Gvein eats 2200-rated German players for breakfast, which he did show in the following game.
Gvein (2405) - Schnullipulli (2223)

Another player that impressed during this edition of the Online Bundesliga was Allix. In the following game Allix exploited a clever discovered check before delievering checkmate in beautiful fashion - against a higher rated opponent!
Allix (1396) - Enpassant2020 (1703)

Full results are available here.