In this update we focus on the new tournament in the Meltwater Champions Chess Tour, namely the Opera Euro Rapid. Further, Offerspill has had success in the latest versions of the online Bundesliga - the Quarantine League.
Remember to follow Offerspill on social media for frequent updates on club activities, news and other content.

Facebook | Twitter | Twitch | Instagram
Opera Euro Rapid
It's time for another tournament in the Meltwater Champions Chess Tour. Three days of preliminary rapid play will give us a knockout tournament with the 8 best players from the preliminaries.
The time control for the tournament is 15 minutes for all moves, with a 10-second increment from move 1. Also, it is not allowed to offer a draw before move 40 which encourages fighting chess - perfect for rapid play!
Day 1
World Chess Champion Magnus Carlsen began the Opera Euro Rapid with a loss to US Champion Wesley So, but he stormed back to win the next four games in a row and end the first day as the sole leader - luckily Magnus picked up form immediately after the first round loss as one could fear he had brought his form from Tata Steel Masters with him. Four wins in a row gave Magnus the lead after Day 1.
Alexander Grischuk made the following mouse slip against Anish Giri after the Dutchman played the Berlin variation in the Ruy Lopez. One could wonder if this was just another attempt to avoid the Berlin, but this would have been too extreme from the ever-creative Grischuk:

Grischuk slips up - saves the draw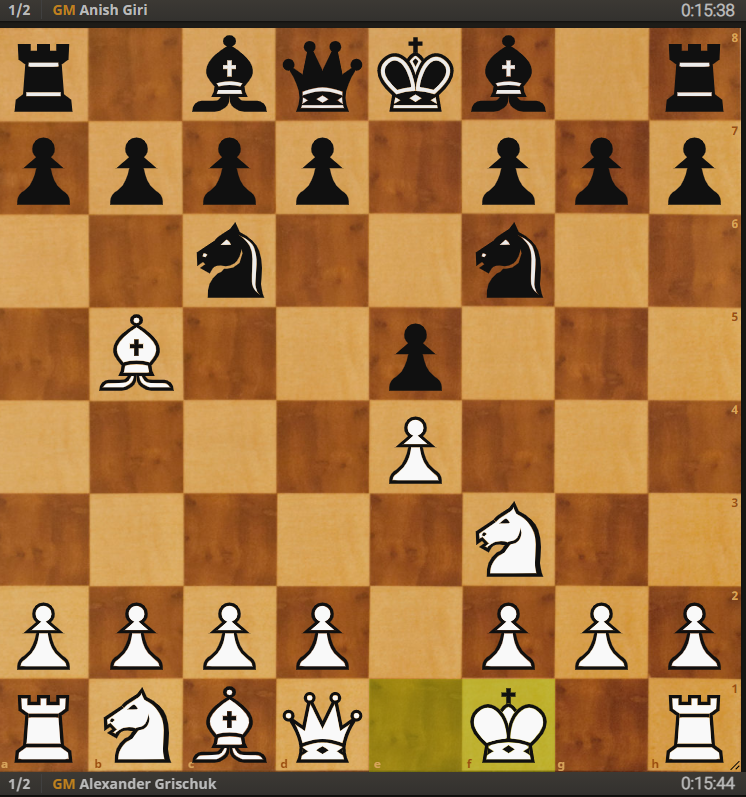 Replay the game in full here.
Carlsen surprises Shankland with 2.Qa4!?

A very nice win for a World Champion that seemed very eager to strike back following a disappointing Tata Steel Masters in Wijk aan Zee recently.
"I was thinking in Tata when I was at 50% after 8 rounds - this is just not who I am!" - Magnus Carlsen
Standings - day 1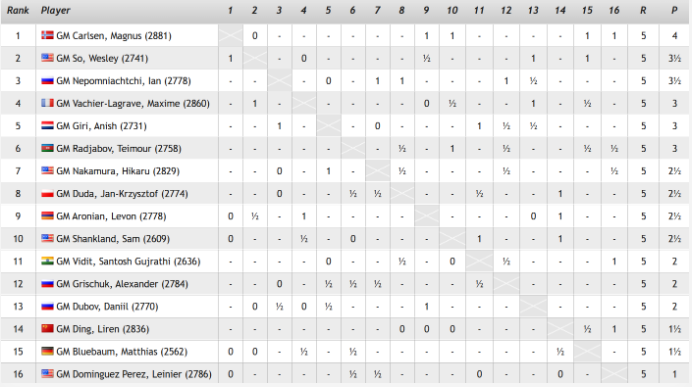 Day 2
The second day also proved to be an action packed day, but not so much for Magnus. After an unusual streak of four draws the World Champion managed to trick Hikaru Nakamura in the last round of the day and won in a picturesque position.
Carlsen - Nakamura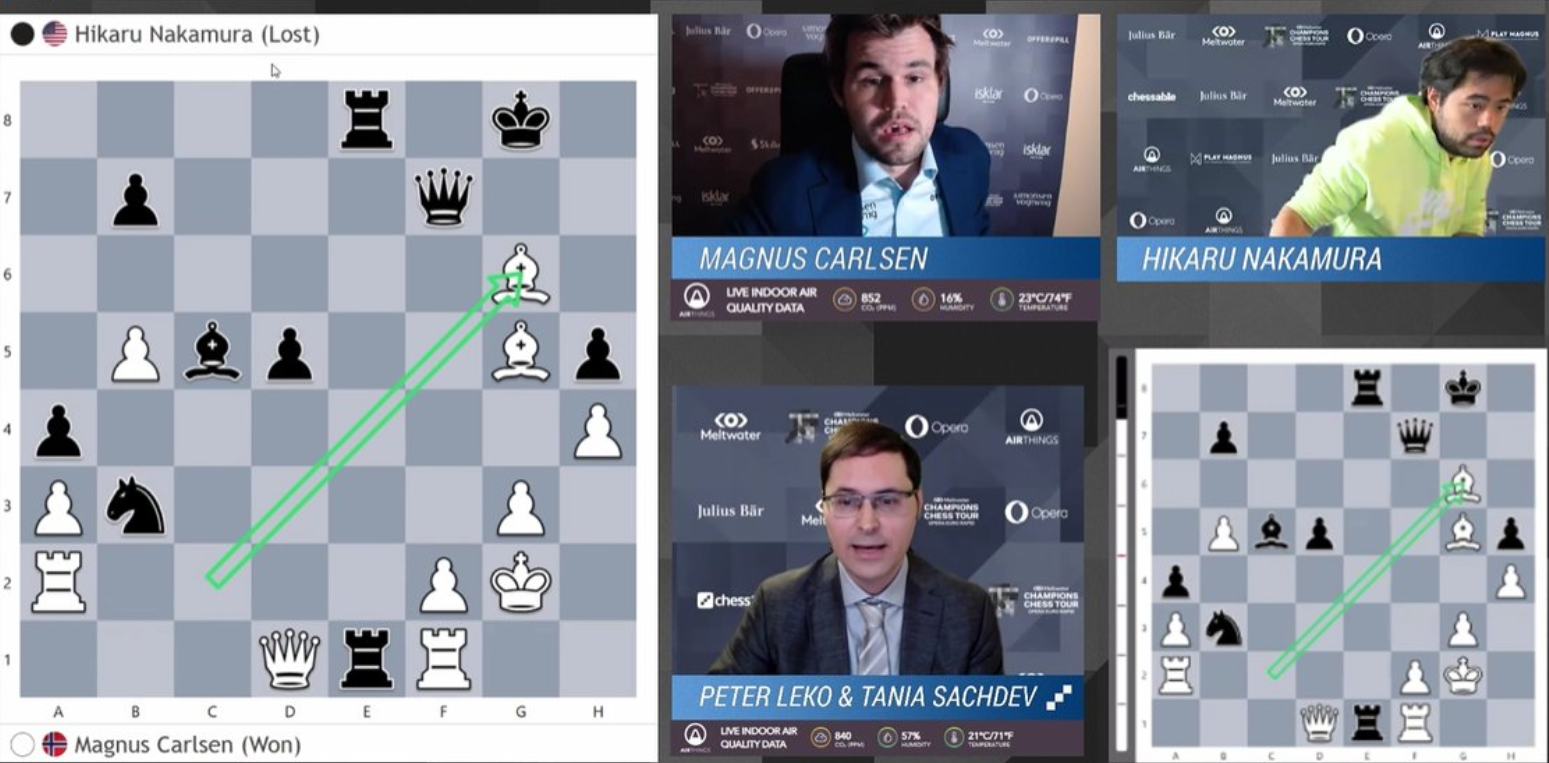 Nakamura sacrifices and beats sleepy Ding Liren
Ding Liren is playing his games from his home in China and has been looking a bit tired on the official broadcast. No wonder, as the time difference means that he is playing most of his games in the middle of the night. Nakamura tried to exploit this by playing the tricky Nimzo-Larsen against the Chinese number 1, but met stubborn defence. However, Ding Liren finally cracked under pressure with just a couple of seconds left on the clock.

Standings - day 2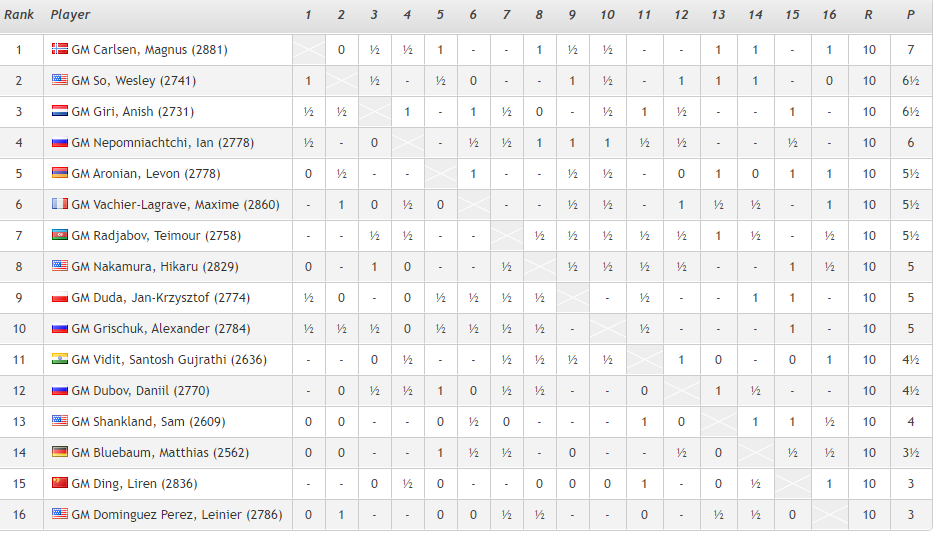 View reports from Chess24 and Chessbase.
Replay games on Lichess.
Previous events in the Meltwater Champions Chess tour:
Skilling Open | Airthings Masters
Quarantine League
Offerspill competed in two team tournaments this week and managed not only to achieve promotion to the 5th divison, but even to the 5th divison thanks to a fantastic team effort led by IM Johannes Haug (ezlyfe) on the 4th of February and FM Lucas Ranaldi (Lucasran) on the 7th of February.
Tasty Thursday
Offerspill was led by talented IM Johannes Haug who clinched the top scorer title for himself and promotion for Offerspill much thanks to a string of wins against strong opposition. Johannes was soon joined by crowd favourite GM Johan-Sebastian Christinansen (Johanssc). JS didn't manage to match Johannes' perfect score, but still contributed with 50 points in only 14 games - amazing.
However, team battles are always a matter of how competitive the team is as a whole - a team-high 26 players competed for Offerspill on this day. Every single one gave it their all and contributed to a comfortable win. Up to the 5th division we go!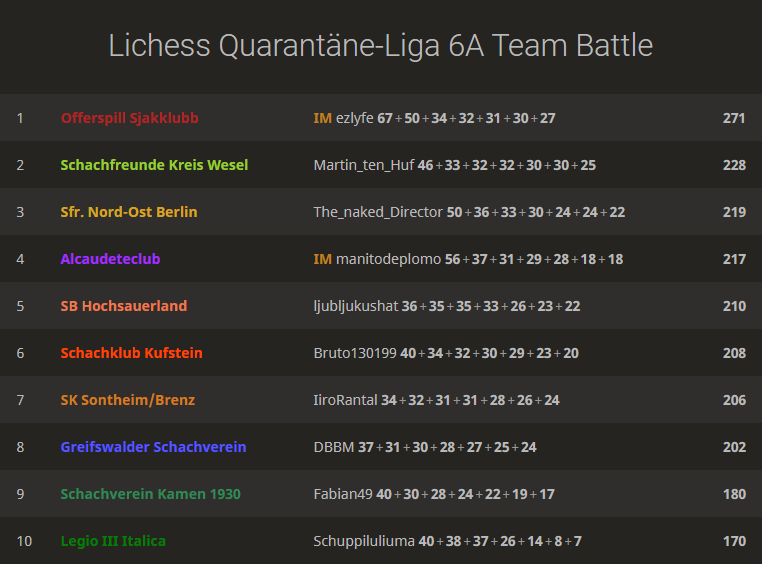 Haug shows the power of the bishop pair

Super Sunday
Offerspill narrowly missed out on the division title this time around, but nevertheless managed promotion to the 4th divison with a 2nd place. Krosta, Talexander and BybanetilHop had the highest relative rating performances and all scored a lot of valuable points of Offerspill this Sunday. Especially BybanetilHop impressed with a 2371 performance and this controlled win:
Standings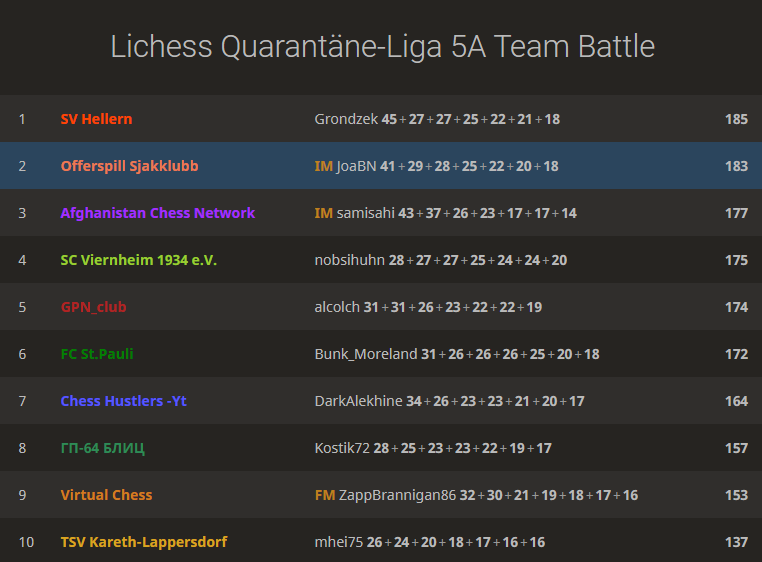 Offerspill will play in the 4th division for the first time next time around.
Next team battle in the online Bundesliga is scheduled for the 11th of February at 20.00 CET.
View standings here.
You can find the full schedule for the Quarantine League at the website.