Tata Steel Masters is underway in Wijk aan Zee. We report from the two first rounds of the elite tournament in addition to short reports from the recent Quarantine League and Lichess Titled Arena.
Remember to follow Offerspill on social media for frequent updates on club activities, news and other content.

Facebook | Twitter | Twitch | Instagram
Tata Steel Masters
The traditional top tournament in Wijk aan Zee, Tata Steel, is underway with a bunch of the worlds best players. Four players have a plus score after two rounds with Swedish number 1 Nils Grandelius winning both his games so far. The chasing pack consists of World Champion Magnus Carlsen, former challenger Fabiano Caruana and Anish Giri. The latter beat Offerspill member Aryan Tari in the first round in a theoretical line of the Ruy Lopez.
R1: Carlsen beats "the kid"
The drawing of lots gave us a wonderful start to the tournament, namely the encounter Carlsen - Firouzja already in the first round. The players did not disappoint, and Magnus could be both relieved and happy after winning the game following several slightly risky pawn sacrifices.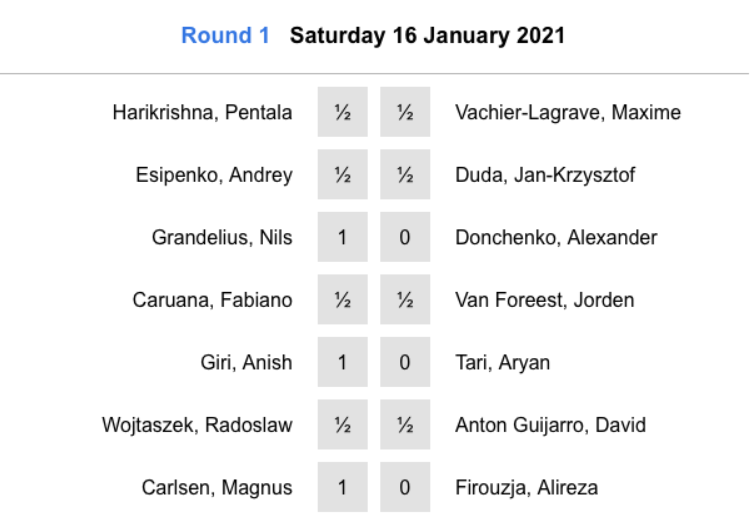 Carlsen - Firouzja
The win marked an unusually strong start to a top tournament for Magnus. Following a couple of tournaments under his normal standard hopefully this can kickstart 2021 for the World Champion.
I have experienced before that the tournament has kickstarted a few years for me. In addition it has helped me to get out of a couple of bad periods. So I believe this can become a turning point after a bad period.
Aryan Tari had a tough start as he was paired against Dutch top player Anish Giri with the black pieces. However, Aryan surprised his opponent with a sharp opening choice. Unfortunately, Giri was well prepared in this line and managed to fence off Tari's attack with ease. The Dutch GM won convincingly after a manoeuvring game. Giri's 11. Kg2! was an important improvement that secured White a satisfactory blockade.
Giri - Tari

R2: Tari on the scoreboard, Grandelius on fire
Aryan played a solid game against  GM Wojtaszek with the white pieces, but after resicilient defence from the experienced the Polish number 2 the game ended in a draw. However, a solid draw for Aryan already in round 2 is a good start. It's also a good experience to be able to press against one of the top players in the field.
NB! Wojtaszek is a familiar name for more than one Offerspill player. Johan-Sebastian Christiansen faced off against the then Polish number 1 in the Fide World Cup 2019. The knockout tournament always promises a lot of action and JS came through with an impressive 2-0 victory in their mini match. You can review the games on Lichess.
Tari - Wojtaszek
Man on Fire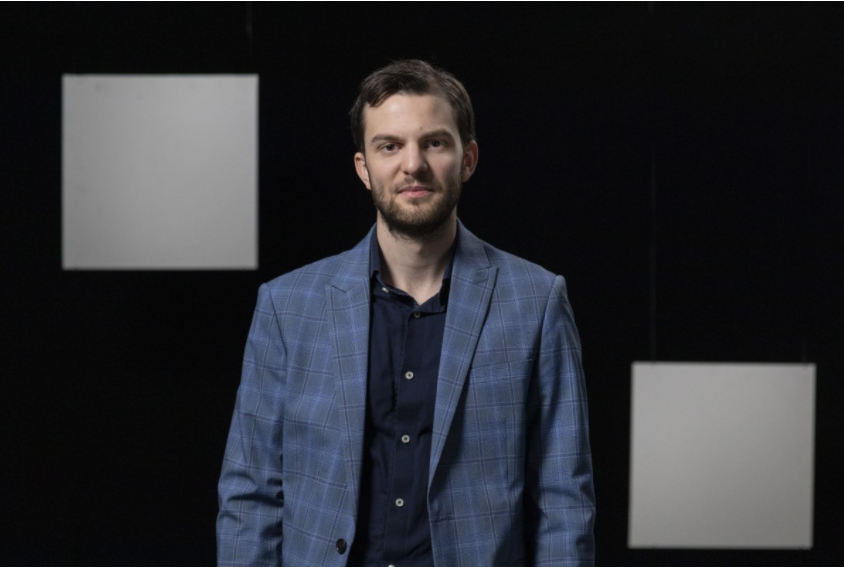 No, we are not referring to the underrated 2004 movie starring a vengeful Denzel Washington, but rather about the in-form Swedish number 1 Nils Grandelius. With his foot firmly placed on the trottle the Swede continued his impressive showing from round 1 into the game against Polish number 1 Jan-Krzysztof Duda in round 2. It is rare to see Duda outplayed like this, but Grandelius' potential is there for all to see. Fingers crossed for continued Nordic dominance of the Tata Steel Masters - but we would prefer a Norwegian on top of the podium, of course.
Let's see how Grandelius dispatched with the strong GM Duda in round 2:
Duda - Grandelius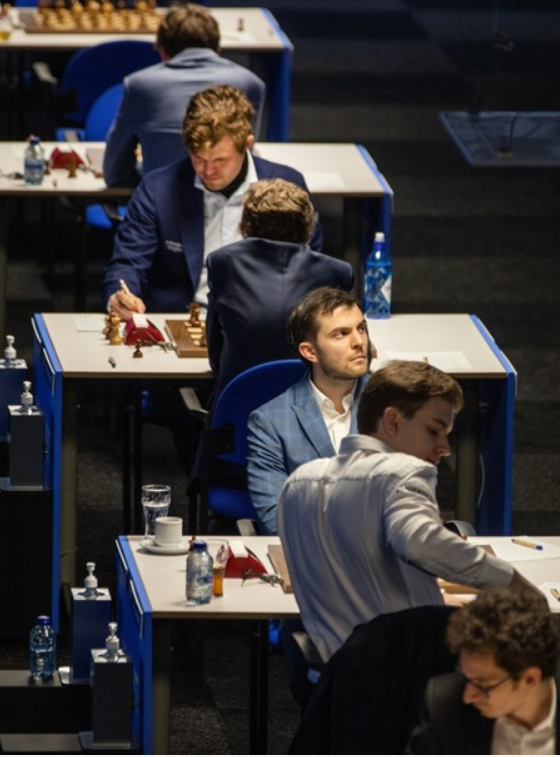 Magnus Carlsen played a long game against the Spanish GM David Antón Guijarro, but was unable to break through after great defensive play from his opponent. Review the game here.
Round 3
Below are the pairings for round 3 with individual scores. We will also get the anticipated Offerspill encounted between Carlsen and Tari.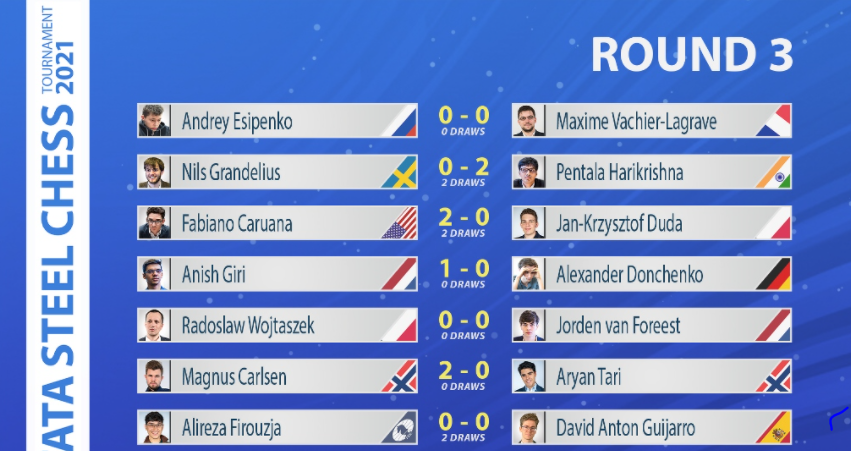 Fingers crossed for our Offerspill players in the next rounds.
Read reports about the tournament at Chessbase | Chess24 | Official site
Quarantine League
Last week Offerspill advanced to the 8th division of the Quarantine League, the online Bundesliga of chess, and had high hopes for further progression in the divisions. Sadly, this was not to be as Offerspill just missed out on 6th place by a margin of 3 points. As this was a battle of 10 teams with 6 leaders the 7th place was a dreaded one. However, Offerspill will be back with a vengeance next week.
In the meantime we can enjoy the following miniatyr by cash1981 (Shervin Asgari):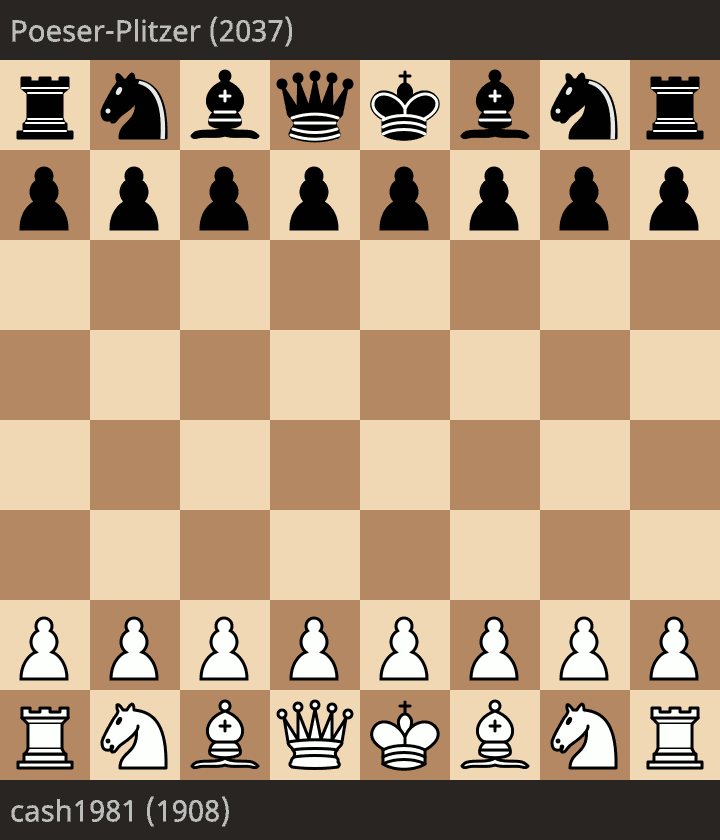 Top scorers for Offerspill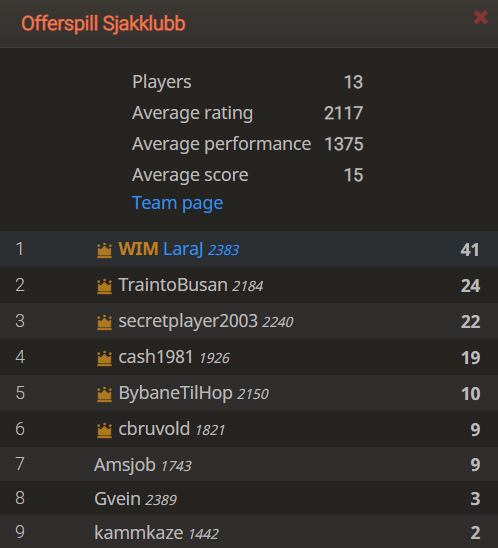 Standings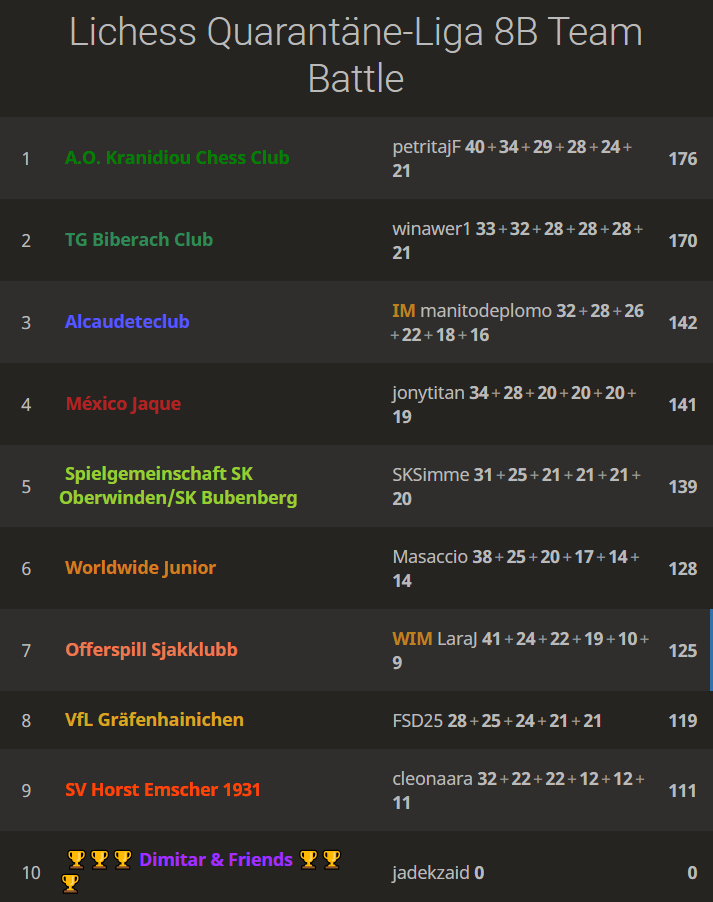 Join team "Offerspill Sjakklubb" on Lichess if you want to join our team battles in the Quarantine League. Also, you will be able to participate in the Offerspill Online League and other club activities.
Become a club member here and join our team here.
Titled Arena
On Saturday the 16th of January Lichess once again organized a star-studded bullet tournament in which yours truly participated. After getting crushed by a variety of players I chose to observe greatness in action as Daniel Naroditsky (RebeccaHarris) won the tournament. The win was owed to a fantastic start as the American GM suffered a terrible finish to the tournament as he only managed a single win from his last 10 games.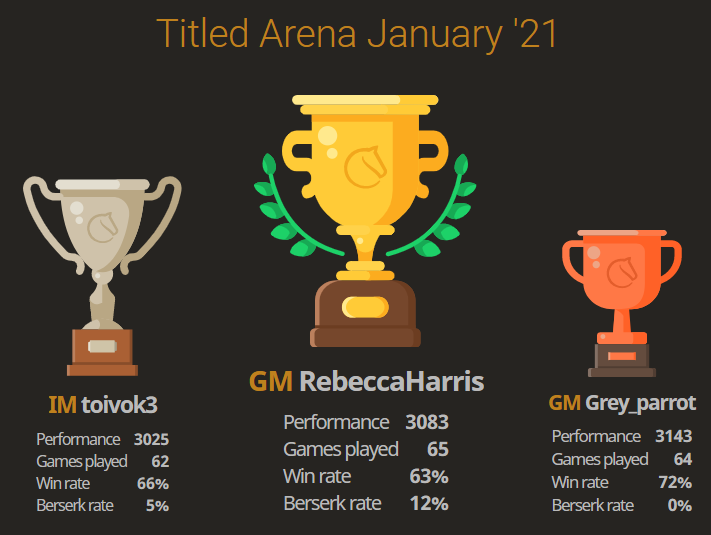 The following game shows Naroditsky's strength as he manages to outplay a fellow GM in classic fashion - even with a time control as fast as bullet.