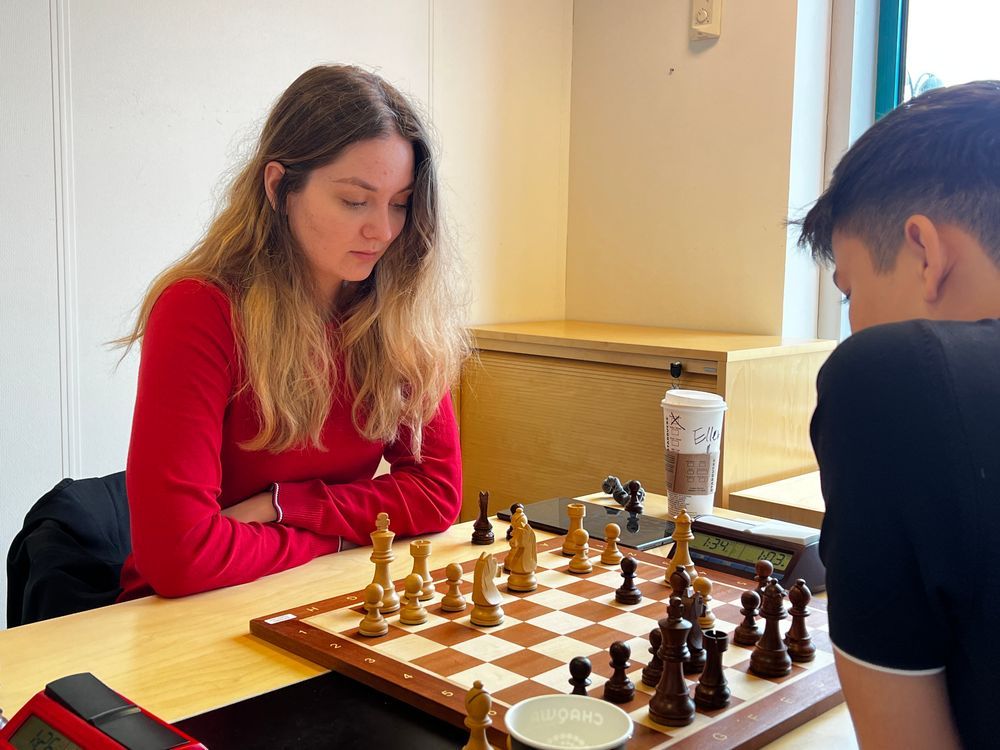 With three packed bags - two with clothes and work equipment and one with yet another finished exam - I was ready to go to Norway for the second time this year. For the first three days of the trip, I would be working as a volunteer at the main tournament at Norway Chess, and for the remaining 8 days, I would be playing in the Norway Chess Open. History shows that I usually do quite well when playing in the cold but beautiful neighbour country to my home - but as always, I was fully prepared for history not repeating itself. Before leaving home, I had been warned that the waiting time in the airport could be very long when travelling with SAS, so I was quite surprised when I arrived at the airport 2.5 hours in advance and almost flew through baggage check-in and security. However, it wasn't something to complain about as I'd always choose that over a missed flight. Besides that the trip to Stavanger was smooth, but it was a shame that I was not in time to make it to watch the blitz tournament that would decide the players' starting numbers in the tournament.

Waking up in my Airbnb the next day, was with renewed energy and a lot of excitement. The round in the main tournament didn't start until 17:00, so I had quite a bit of time to take care of some practical things and do a bit of work. When arriving at the playing venue, I was warmly greeted, shown around everywhere, and introduced to the crew - it almost felt surreal to be a part of it. For the first ten minutes of the round, I got to take pictures, and for the rest of the time, I did a mixture of things like taking small videos of the surroundings and visitors, taking more pictures, and seeing how the chess24 studio worked behind the scenes. I had a lot of fun, and when getting back to the Airbnb around 22:30, I almost couldn't wait for the next day already. The next days continued much like the first but with no less enthusiasm and happiness than the first day.

Finally, it was time for my own tournament to start! It was the first round, I felt good, I felt ready, I thought to myself: Let's go! However, my opponent didn't feel the same way, so it was with a lot of disappointment that I went home after my opponent didn't show - ultimately a bye disguised as my highest-rated win ever. Though, the full point bye meant that I in round 2 got another chance to play another high-rated player - this time a GM from the USA. It was as if everything was going my way until one careless move left a draw unavoidable. Not a bad result but it didn't feel like a good result either. It wasn't many people below 2150 who had started the tournament with 1.5/2 points so for round 3, I got promoted to the top room where also GM Praggnanandhaa was playing. This time, I took on yet another GM, and even though it was an extremely exciting game, I was the one to go down in the end. In round 4 another titled player thought that he'd try his luck against the "Ellengine" and trying his luck he did. Like in round 2, I was flying - but also like in round 2, carelessness made me fall down from the sky hitting reality with a big bang. The first 4 / 3 rounds were all against higher-rated opponents, and after this, it was 5 rounds all against lower rated opponents and a completely shifted storyline. In round 5, I saved an exchange down position, and in round 6 it was a 2-pawn down rook endgame that I saved. In round 7, I tried to be adventurous but the game turned out very uneventful - this game was also the only game in the tournament where I didn't analyse with my opponent as he, unfortunately, didn't speak much English. Round 8 was also a huge turn of events where I even managed to win the terrible position I had on the board. And last but not least, the tournament concluded with my poor play finally getting punished in round 9.

Rating-wise, the tournament was about even-steven, but it definitely wasn't because of the chess being played on the board. I guess I'll say the same as I always say: I'll come back stronger! ..and I better, because my next tournament is the Olympiad in India where I will be representing Denmark. It's been four years since the last Olympiad and I have been looking forward to it ever since - now it's just a question of counting down the days.